Sarah Hammer of Temecula earned the silver medal in cycling's omnium, after a close race with Laura Trott of Great Britain.
"First emotions are I wanted that gold medal for sure and I gave it everything I had," Hammer said moments after competing.
"It was everything and more that I could have given on those 2 days," she told NBC4's Robert Kovacik. "So, I am so happy to be the owner of not one, but two medals."
From a kid riding the country hills with her dad to one of the best the sport has ever seen, Hammer is a four-time world champion and world record holder but never had an Olympic medal until London.

"It's so special to be able to share this with my husband," said Hammer. "It's a surreal moment. I've been wanting one of these things for a long time."
Local
Local news from across Southern California
Hammer led Trott by two points heading into the last of six events, the 500-meter time trial.
Trott won the race in 35.110 seconds while Hammer finished fourth in 35.900 seconds, giving Britain its sixth gold medal in eight events at the London Velodrome.
The start of the second day of competition began with the 3,000-meter individual pursuit, which played right into the American's hands. The world record holder in the event, Hammer roared to a time of 3:29.554 that was nearly a second faster than Trott and moved her into the overall lead.
In the 500-meter time trial the athletes raced for just two laps of the track to decide gold.
The far better sprinter, Trott covered the first 250 meters in 20.140 seconds, while Hammer only managed 20.828, their times on the velodrome screens generating a roar.
Trott maintained her advantage over the second lap, and with the rest of the field already finished, the 20-year-old Trott anxiously looked up to see if she'd beaten Hammer by enough.
It turned out she had - just barely.
For Hammer, it's another silver medal to add to the one she picked up just this weekend in the team pursuit.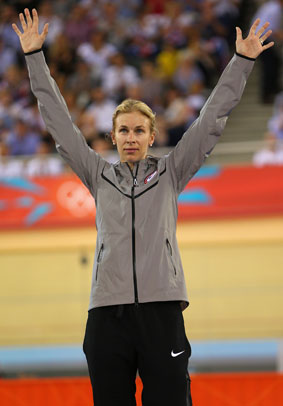 "I get to bring this back to Temecula, share it with all my friends and family, I can't wait to see 'em," she said.
And, she credits her wins to the people of Temecula.
"Thank you for all the support you've given me ever since I started cycling at 10 years old," she said.
Her husband and coach Andy Sparks had a hard time expressing his pride.
For years, the couple have lived together, trained together and shared a dream.
"Very proud, more than proud, that wouldn't even be the right word, in fact I don't even think the word exists," Sparks said.
The newest event to the track cycling program, the omnium is similar to the heptathlon in track and field, or the individual medley in swimming.
Its six events are spread over two days, with riders receiving one point for each position they finish in each race.
The rider with the fewest points after all the events is the winner.
Trott finished with 18 points. Hammer had 19 and Edmondson had 24.
Trott and Hammer began the day tied with 12 points, but the British rider had shown perhaps a bit more speed during victories in the elimination race and flying lap on Monday.
Hammer had already retired once, but she came back to compete. So, will she retire again?
"Right now, I'm still loving it. I can't imagine not riding my bike," she told NBC4. "It's a great sport and I love to ride."
Follow NBCLA for the latest LA news, events and entertainment: iPhone/iPad App | Facebook | Twitter | Google+ | Instagram | RSS | Text Alerts | Email Alerts