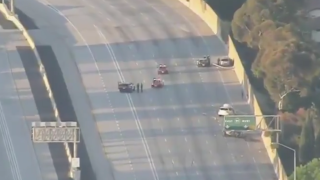 A dispute early Wednesday over a drug deal led to a shooting and crash that prompted the closure of a stretch of the 110 Freeway in Gardena, police said.
The dispute about 4 a.m. led to a chase on the southbound Harbor (110) Freeway, prompting an hours-long closure of the roadway.
"There was a drug deal gone bad in the city of Gardena involving the occupants of two vehicles," California Highway Patrol Officer Simeon Yarbrough said.
The drivers of the vehicles -- a white Infiniti SUV and a gray BMW SUV -- drove south on the 110 Freeway, leading to a car-to-car shooting near Redondo Beach Boulevard.
No one is believed to have been struck by the gunfire, but one of the vehicles wound up crashing into the back of a Cadillac Escalade.
The occupants of the Escalade were uninjured and taken to a safe place, Yarbrough said. The occupants of the gray BMW SUV were injured from the traffic collision but they weren't hit by any rounds, he added.
The BMW occupants were taken to a hospital, but the people in the Infiniti remained at large.
The southbound freeway was completely closed, and it remained blocked until about 10 a.m.
Copyright CNS - City News Service