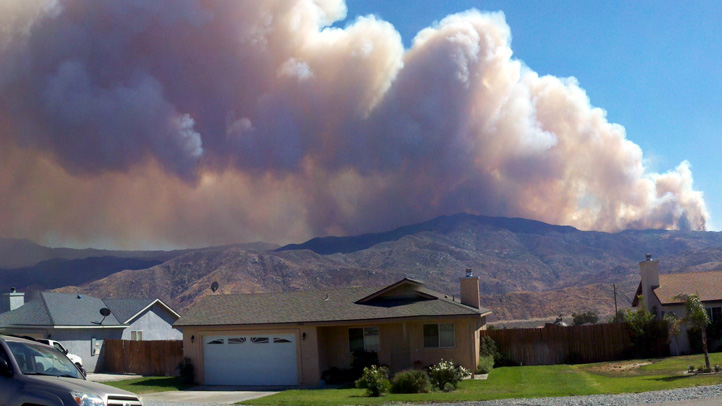 The Southern California wildfire that prompted an emergency declaration continued to burn in the San Jacinto Mountains on Saturday, consuming nearly 30 square miles of terrain.
California Gov. Jerry Brown declared a state of emergency Friday for Riverside County in the wake of the Silver Fire, a blaze that has claimed nearly 30 structures -- most of them homes -- over 19,000 acres.
At least 10 firefighters and one civilian have been injured in the blaze, authorities said.
Local
Local news from across Southern California
Evacuation orders for the areas of Snow Creek, Cabazon, Mt. Edna and Poppet Flats were lifted Friday evening as fire crews had the fire 70 percent contained, according to the Riverside County Fire Department.
More than 1,840 firefighters were battling the blaze amid the strong wind gusts, but cool temperatures helped control the flames as it headed east toward Palm Springs on Friday, clouding the resort town with smoke.
Highway 243 was still closed north of Poppet Flats to Wesley Street in Banning.
An animal evacuation center was established at the San Jacinto Valley Animal Campus, 581 South Grand Ave. in San Jacinto.
Boulder Basin and Black Mountain Campgrounds on Black Mountain Road have been closed through Aug. 15., and evacuation orders were issued for for Marion Mountain Campground, Fern Basin Campground, Dark Canyon Campground -- and for the the Marion Mountain and Seven Pines hiking trails.
Residents in the following areas were told to avoid unnecessary outdoor activities: Lake Elsinore, Perris Valley, Hemet/San Jacinto Valley, Banning Pass, Coachella Valley and Temecula Valley.
Anywhere that residents can see or smell smoke from the wildfires was also included in the warning, according to the South Coast Air Quality Management District.
The Silver Fire broke out about 2 p.m. Wednesday in the foothills of the San Jacinto Mountains about 90 miles east of Los Angeles. Five firefighters and one civilian were injured in the blaze.
Photos: Viewer Images | More Fire Images | Send Us Your Fire Photos
As the fight against the Silver Fire continued, crews fully contained the 1,383-acre Falls Fire burning about 5 miles west of Lake Elsinore.
More Southern California Stories: