After authorities uncovered an alleged Antelope Valley chop shop, one original classic-car owner is about to get his stolen vehicle returned to him, having been repainted and transformed into a low-rider.
The car, originally a stock 1958 Chevrolet Impala convertible, was among three found at a home in unincorporated Quartz Hill, about 70 miles north of Los Angeles. The Impala had been stolen from Mission Hills in March 2007.
All three cars had been taken apart and reassembled and their Vehicle Identification Numbers were changed, according to Los Angeles Police Department Detective George Molina, part of a countywide car theft task force.
Local
Local news from across Southern California
Don Edward Faison, 44, was arrested Wednesday on suspicion of operating a chop shop, a felony. He's being held on $50,000 bail at Van Nuys Jail, according to online inmate records.
"He's a classic car nut," said Molina, adding that Faison is an employee with the LA County sanitation districts.
The investigation began when the Taskforce for Regional Auto Theft Prevention noticed a "rash of classic car thefts" after celebrity TV show host Dr. Phil McGraw's car was stolen in Burbank last year, Molina said. Dr. Phil's 1957 Chevy Bel Air was recovered in Burbank last December.
Classic cars are easy to steal, Molina said, because they're easy to start and the VIN numbers are quickly changed.
"And they're easy to sell right away because people love classic cars," Molina said.
The Impala owner, meanwhile, was less than pleased with the changes to his car, Molina said.
The car had been repainted, rebuilt from the frame up and new upholstery added, as seen at right.
"In essence, his vehicle was returned in better condition than before it was stolen. This doesn't occur very often and he is a lucky individual," a Sheriff's Department news release stated.
But Molina said the owner was upset when told about his car's fate.
"He was upset because he remembered it being a black, original car. He's kind of in a quandary," Molina said. "He doesn't want the black, low-rider look."
An image of a similar original 1958 Chevy Impala convertible in black is shown below.
The owner was expected to be reunited with his car Friday afternoon at a North Hollywood tow yard, but it could take several weeks of processing before the vehicles will be returned to their owners.
The other two cars found at Faison's the home were a 1955 Chevy Bel Air, at left, stolen in May 2011 from the owner's Santa Monica home, according to Molina, and a 1960 Chevrolet Impala, stolen in April 2011 from a business in Monrovia. Those also were found to have VIN number changed.
Faison was arrested about two weeks after authorities served a search warrant on his home in the 4600 block of West M-12, Quartz Hill. Detectives impounded four vehicles at the home.
It's not clear if Faison was involved in the thefts, Molina said.
Credit for image below: flickr/Brain Toad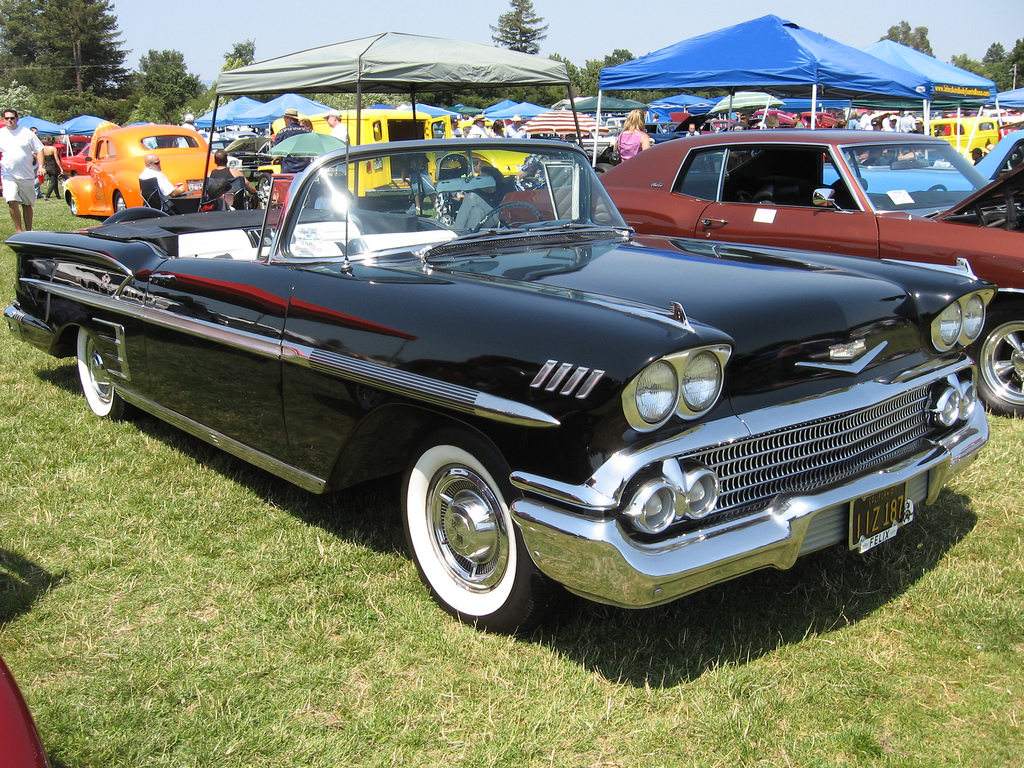 More Southern California Stories: