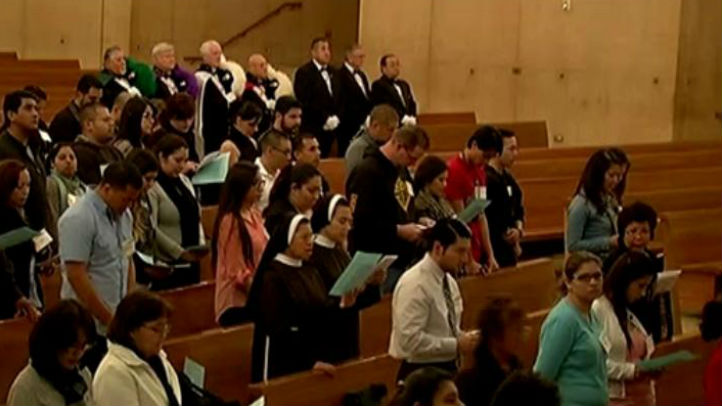 The mother church for Los Angeles Catholics threw open its doors Monday, hosting an all-night vigil for the election of the new pope.
The Cathedral of Our Lady of the Angels invited devoted Catholics -- and anyone else who was interested in participating -- to pray from Monday at 7 p.m. until 7 a.m. Tuesday.
On Tuesday, cardinals from around the world gathered in Rome to join the conclave to elect the pope. Former Los Angeles Cardinal Roger Mahoney is among the 115 cardinals participating. Mahoney's role in the ongoing priest abuse scandal has generated international media attention for a church facing similar scandals around the country and the world.
Local
Local news from across Southern California
COMPLETE POPE ELECTION COVERAGE
The vigil drew more than 500 churchgoers throughout the night, said Carolina Guevara, a spokeswoman for the cathedral.
Among the congregants was Fr. Pedro Lopez, the pastor at St. Pius X in Santa Fe Springs, who made the journey downtown to join other Catholics in marking the solemn event.
"The person who will be pope will be the spiritual father to the whole church," Lopez said. "We need someone who will love and care for the church, and that includes us here in Los Angeles."
Vigil participants recited the rosary on the hour though the night, asking God to to give guidance to the cardinals deliberating in the papal conclave.
The vigil concluded with a "special intention" service known as a votive mass.
"This is an historic moment for our Church," said Cathedral Pastor Kevin Kostelnik, in statement. "As Catholics, we pray for the Holy Spirit to guide the College of Cardinals as they select our next pope."
Monday's event marked the second time the 11-year-old cathedral held an all-night vigil for a papal conclave. The first was in 2005, during the conclave in which Pope Benedict XVI was elected.
No more all-night vigils are planned during this conclave, but the church has designated a chapel specifically for praying for the election of the pope.
The cathedral will also celebrate a special mass once the white smoke appears from the Sistine Chapel in Vatican City, signifying the selection of the new pope.