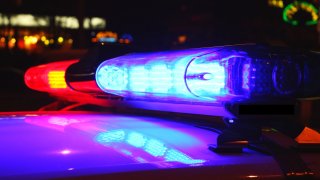 Police responded to a report of a woman putting a rifle into a red vehicle in the San Gabriel Valley Tuesday night, leading to a short pursuit.
The pursuit, which started around 8:24 p.m., went through Lincoln Heights and the El Sereno areas near Alhambra, according to the Alhambra Police Department.
A woman was detained at the scene for felony evading, while the man who was also in the car was treated for an injury, the APD said. It was not immediately clear if the man was detained.
Newschopper4 caught the end of the chase, as the vehicle abruptly pulled over in El Sereno, with two people surrendering.
Police said a pellet gun was possibly found at the scene.
Please check back for updates.