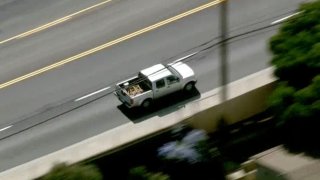 A driver who led officers on a pursuit that included a standoff at a Thousand Oaks shopping center parking lot was arrested during a takedown on the side of a two-lane road in Ventura County.
The pursuit began in Oxnard after reports of someone making threats with a firearm. Details about the report were not immediately available.
Video showed a line of patrol cars and SUVs trailing the pickup near the 101 Freeway. The driver was stopping at intersections and not exceeding the speed limit.
At least one spike strip was deployed, but the pickup's tires did not appear damaged.
The driver pulled into a parking lot at a The Promenade at Westlake shopping center, staying in a parking stall during a standoff. After several minutes, the driver took off at high speeds, entering the 101 Freeway before exiting back onto streets.
After pulling to the side of Laguna Road, the driver was boxed in by law enforcement SUVs at Las Posas Road. He casually walked from the pickup before he was tackled to the ground and arrested.