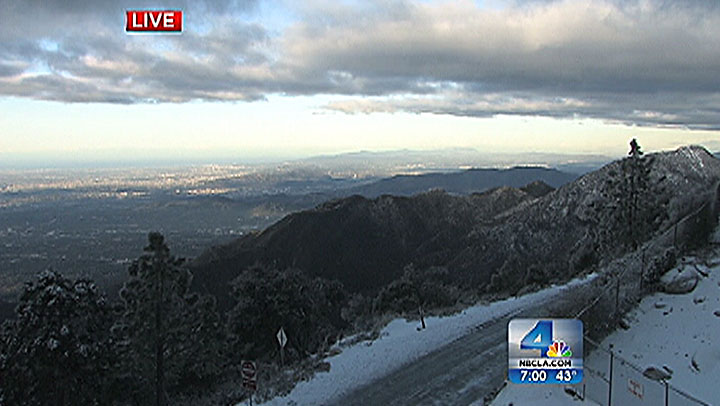 A few showers are possible around Southern California this morning as a record-breaking, late-season storm moves east.
Westerly winds will be blowing at 15-25 mph along the coast today, with gusts up to about 35 mph forecast. A wind advisory was issued through 9 p.m. for the metro area.
The winds will be the strongest near the coast.
Local
Local news from across Southern California
Highs are forecast to be in the mid and upper 60s. In downtown Los Angeles, 0.48 inches of rain fell Friday, beating the old record of 0.29 inches set in 1956, according the National Weather Service.
At Los Angeles International Airport, 0.41 inches fell, tying the old record set in 1956. And in Long Beach, 0.44 inches fell, breaking the old record for the date of 0.07 set in 1976. Burbank got 0.89 inches, surpassing its old record of 0.36 inches set in 1976.
Records also were set in Palmdale, where 0.47 inches fell, beating the old record of 0.22 inches set in 1998, and in Lancaster, where 0.72 inches fell, beating the old record of 0.31 inches set the same year.
Up to a foot of snow fell at local resorts, prompting them to extend the skiing/snowboarding season through the weekend at least. Snow prompted the California Highway Patrol to close the Grapevine section of Interstate 5 through the nearly 4,000-foot Cajon Pass was closed from about 10 p.m. Friday to about 4 a.m. Saturday.
A winter storm warning for the Los Angeles County mountains remains in effect through 9 a.m. Utility crews were working to restore electrical outages this morning.
As of midnight, about 900 Southern California Edison customers were without power in South Gate, Pico Rivera, Santa Monica, Duarte, Long Beach, Carson, Hawthorne and other areas of Los Angeles County, SCE spokeswoman Lois Pitter Bruce said.
Scattered outages among SCE customers in Riverside and Orange counties, totaling about 300, were reported as well. About 5,000 Los Angeles Department of Water and Power customers in Del Rey, Exposition Park, Gramercy Park and Westlake were without service at some point Friday. Sunday should be warmer and sunny, with highs in the lower 70s.
Follow NBCLA for the latest LA news, events and entertainment: iPhone/iPad App | Facebook | Twitter | Google+ | Instagram | RSS | Text Alerts | Email Alerts
Copyright CNS - City News Service