Wider freeway ramps and improved public transit options are just some of the proposals in AEG's 10,000-plus page draft Environmental Impact Report -- a key requirement in the developer's plan for a 73,000-seat downtown LA football stadium.
Read: Draft Environmental Impact Report
The substantial report contained in several binders and boxes was released Thursday. The study, compiled with help from the city's transportation, fire and police departments, and Caltrans, Metro and Metrolink, also was
posted on the Planning Department website
and devotes several sections to how people would get to and from the proposed Farmers Field stadium.
The developer would like to widen the notoriously bottlenecked northbound 101 Hollywood Freeway committing $2.5 million to a study adding a lane to a roughly one-mile stretch of the 101 from downtown to the Glendale Boulevard exit.
Traffic, air quality, noise and public safety are all part of the report, which is required before the Farmers Field project can move forward. It will be presented at 10:30 a.m. Thursday during a City Hall news conference by AEG President and CEO Tim Leiweke, who brought a preliminary version of the document to
an NBC4 NewsConference appearance
.
"Much of the mitigation was spent on transportation," Leiweke said, adding that it includes plans to make Farmers Field the "most commuter friendly stadium ever built."
Senate Bill 292 also placed new environmental restrictions on the stadium, including a provision requiring it to have the highest rate of attendance by transportation other than cars of any NFL stadium in the nation.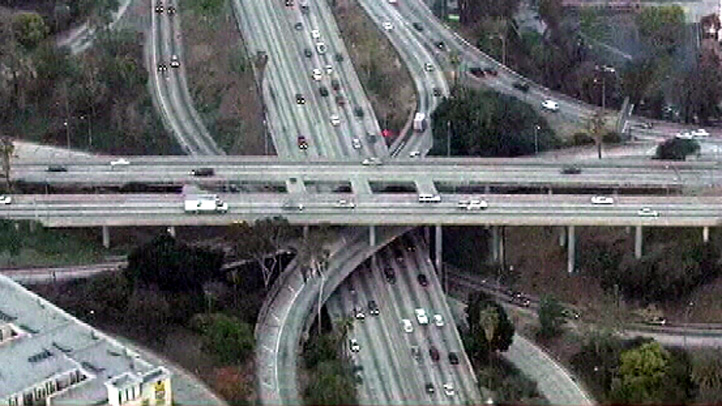 In an executive summary of the EIR unveiled Wednesday, AEG said it will pay for upgrades at 73 intersections in the area around the stadium and pay Caltrans $2.5 million to add a lane on the Hollywood (101) Freeway, where an interchange backs up traffic on the Harbor (110) Freeway (pictured, right).
AEG also said it will pay $10 millionpay for an expanded light rail platform at 11th and Hope streets.
The EIR is scheduled to go through a 45-day public comment period, although LA Councilman Bill Rosendahl said Wednesday he wanted to extend it to 90 days, given its considerable size. If approved by the City Council and Mayor Antonio Villaraigosa, the report would be open to legal challenges for 175 days.
Gov. Jerry Brown signed a law in September 2011 that created special legal protections for the proposed stadium.
LA has not been home to an NFL team since 1994 when the LA Raiders played their last of 13 seasons at LA Memorial Coliseum. The Los Angeles Rams played in the Coliseum from 1946-1979 and at what was then known as Anaheim Stadium from 1980-1994 before moving to St. Louis in 1995.
Follow NBCLA for the latest LA news, events and entertainment:iPhone/iPad App | Facebook| Twitter | Google+ | Instagram | RSS | Text Alerts | Email Alerts