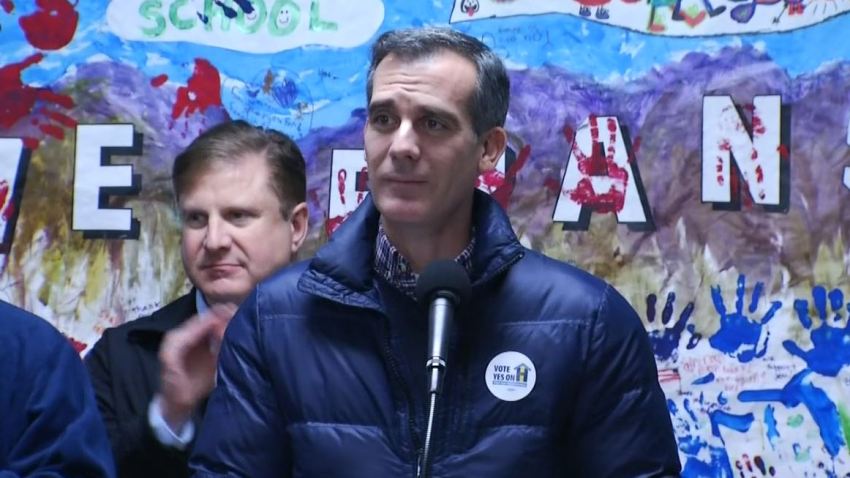 What to Know
AB 1911, which was signed on Sept. 26, allows homelessness housing projects to skip environmental reviews.
LA County Supervisor Mark Ridley Thomas said the bill could expedite projects by months or even years.
The bill doesn't seem to mention if it would affect the California Coastal Act, a environmental protection law similar to the ones bypassed.
Los Angeles Mayor Eric Garcetti praised on Thursday the signing of a state bill aimed at speeding up the process for building homeless housing projects, and spotlighted a new supportive housing apartment complex being constructed in downtown's Skid Row.
The bill allows homeless housing projects to bypass California Environmental Quality Act reviews.
"We are here to celebrate something that is brought to us by a champion of L.A., Assembly member Miguel Santiago, whose legislation, AB 1197, will speed projects like this up," Garcetti said via Facebook Live at the Flor 401 Apartments in Skid Row.
Gov. Gavin Newsom signed the bill on Sept. 26 and the CEQA exemption will last until 2025.
Santiago, the bill's author, thanked the mayor for his support of the legislation, and spoke about the funding for projects like the one in Skid Row, which is subsidized by the voter-approved Proposition HHH, which allocates $1.2 billion in bonded housing loans to build more than 10,000 units of supportive housing by 2026.
"Here in Los Angeles, we stepped up really quick, worked with the mayor, we have unprecedented funding, and we're intent on getting permanent supportive housing and emergency shelters built here in Los Angeles," Santiago said.
Streets Of Shame
Reports on Los Angeles' homelessness issue
Supervisor Mark Ridley-Thomas described the bill as a "game-changer." He said, "Now is not the time to be bogged down by years of reviews and technicalities associated with our traditional entitlement processes. Thanks to AB 1197, we will shave months, if not years off the time frame for getting much-need housing and shelters built."
CEQA processes are intended to preserve California's natural properties, but at a time when homelessness has been recorded as increasing faster than the Los Angeles can house people, legislators argued it could be worth it to bypass environmental restrictions. The bill doesn't appear to mention if it would affect the California Coastal Act, a similar environmental protection measure applied to proposed developments 1,000 meters from the state's shoreline.
"They (homeless housing projects) won't get caught up in legal disputes, they will move more quickly, we will house more people and not just address but end homelessness," Garcetti said. "This is the fight of this decade, we will do it and thank you, Miguel, for making it happen."
Santiago concurred, saying, "It takes a village, but we're going to get this done."
Copyright C