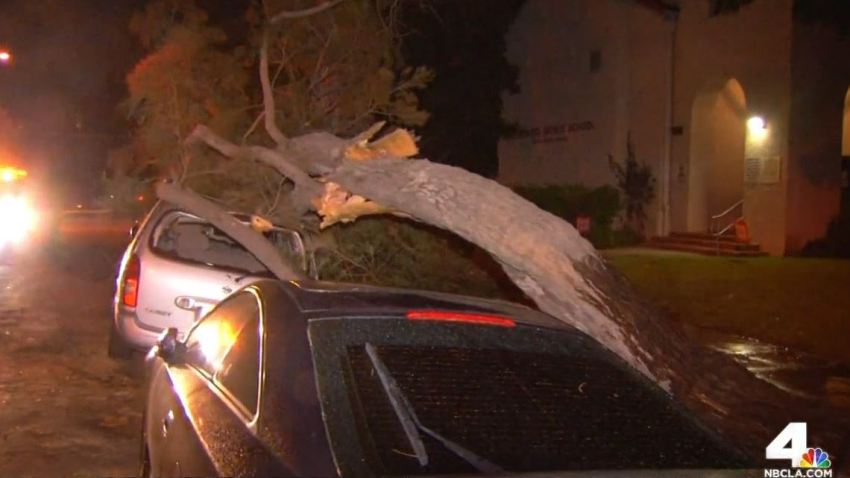 Utility repair crews continued working Saturday to restore power to customers across the Southland who experienced outages after strong winds knocked down trees and electrical wires, leaving more than 23,000 customers in the dark.
"The wind storms typically result in power outages as dried palm fronds, tree branches, downed trees and other debris fall and make contact with power lines,'' Albert Rodriguez of the Los Angeles Department of Water and Power said Friday.
"LADWP crews are working as diligently and as safely as possible under these heavy wind conditions to restore power to customers affected,'' Rodriguez
said.
Local
Local news from across Southern California
As of 5:30 a.m. Saturday, about 88 LADWP customers were still without electricity in Encino.
Winds were to blame for about 330 separate power outages that affected about 23,000 LADWP customers at one point, according to the LADWP.
Southern California Edison reported as many as 9,600 customers without
electricity in its jurisdiction in various parts of Los Angeles County.
As of 6 p.m. Friday, 1,180 customers were without service, including 717 in West Covina, 158 in Santa Monica and 112 in Torrance as a result of 14
separate outage incidents, the utility reported.
The winds knocked down trees across the area, including in Northridge, where the gusts felled a 70-foot-tall pine tree that crushed the top of a pickup on Superior Street.
In West Los Angeles, power outages left traffic lights flashing red at a series of intersections, complicating the morning commute.
In San Bernardino, a fire started in the north end of the city at the 210 Freeway next to the H Street off ramp shortly at around 12:40 a.m. About 10 rigs responded to the fire, which was likely started by high winds hitting the power lines and spreading onto brush on the side of the freeway, according to the San Bernardino City Fire Department.
Fire officials said it took over two hours for firefighters to put out the blaze with support from the San Bernardino County Fire Department and the Rialto Fire Department.
In Monrovia, high winds prompted organizers of a weekly night street fair to begin deflating a bounce house Friday night, which then tipped over as it was blown by the winds, according to Monrovia police. Three children were treated for minor injuries.
Some wind gusts reaching 60 mph were recorded in the northern reaches of the county, according to the National Weather Service. In the San Fernando
Valley, winds were gusting at 40 mph.
Gusts up to 45 mph caused seven inbound flights to be diverted from Los Angeles International Airport to Ontario International Airport, said Nancy
Castles of Los Angeles World Airports, which operates both facilities. Six were
passenger flights and one a cargo plane, and all but the cargo plane had made
their way to LAX by 11:30 a.m., Castles said.
Some equipment that was blown around LAX struck and damaged three
aircraft, two of them cargo planes and one destined for a charter flight that had to be delayed until Saturday, Castles said.
Forecasters said the winds will be sticking around.
"An upper level ridge will build into the West Coast and surface high
pressure will move into Nevada over the weekend,'' according to the NWS.
"This will bring gusty Santa Ana winds to portions of the region tonight (Friday) through Sunday morning.''
City News Service contributed to this report.