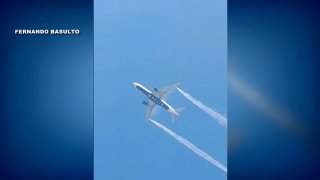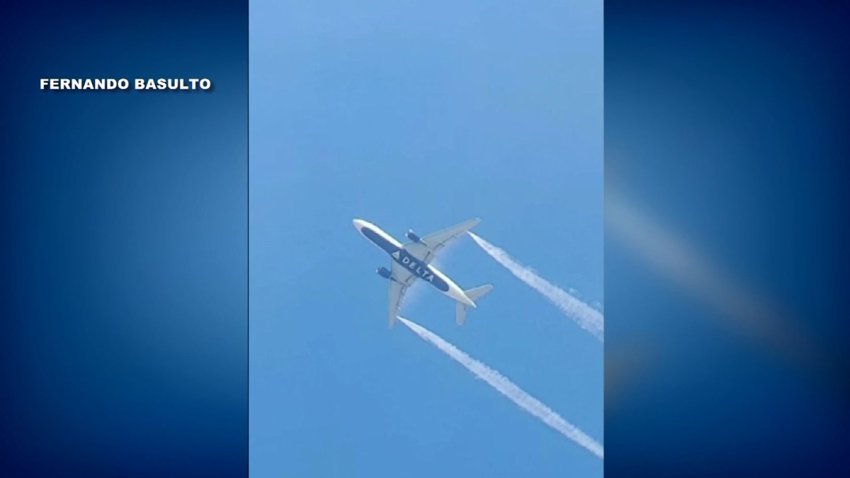 Some 60 people were treated for skin irritation Tuesday after a plane dumped jet fuel over an elementary school east of Los Angeles International Airport.
Seventeen children and nine adults at Park Avenue Elementary School in the 8000 block of Park Avenue in Cudahy complained of skin irritation, according to the Los Angeles County Fire Department. Students and staff members were on the school's playground, about 15 miles east of the airport, at the time of the incident, just before noon, the Los Angeles Unified School District said in a statement.
"Students and staff were on the playground at the time and may have been sprayed by fuel or inhaled fumes," the district's statement continued. "Schools immediately called paramedics, who are on the scene and are treating anyone who is complaining of skin irritation or breathing problems."
Several people in the area reported a strong odor of jet fuel, the department said.
No one was transported to the hospital but aerial video showed several ambulances at Park Avenue Elementary School.
Delta Air Lines confirmed that one of its planes dumped fuel as it returned to the airport around midday due to an engine problem shortly after takeoff. The airline said the fuel was released to reduce the plane's landing weight.
The plane landed safely.
Local
Get Los Angeles's latest local news on crime, entertainment, weather, schools, COVID, cost of living and more. Here's your go-to source for today's LA news.
The Federal Aviation Administration issued the following statement: "Delta Air Lines Flight 89 declared an emergency after departing from LAX, returned to the airport and landed without incident. The FAA is aware of and looking into reports that children at a school east of LAX are being treated for fuel exposure."
The FAA has several requirements for dumping fuel, which allows an aircraft to lose weight before landing.
Los Angeles Unified's Office of Environmental Health and Safety also responded to Park Avenue Elementary School. In a tweet, Los Angeles School Police said Jordan High School and 93rd Street Elementary School also were affected by the jet fuel dump. No students required hospitalization.
Jet fuel can irritate the skin, causing a burning sensation and possibly a rash. It can be cleaned by using a de-greaser, like dish soap.
With the whiffs of acrid jet fuel lingering in the air some five hours later, students at Park Avenue talk about the bizarre incident.
"It was very strong, the odor, and we had to come back to the class," said Diego Martinez.
Sixth grader Marian Torres' eyes were still bothering her as she went home with family, her foul-smelling sweater in a trash bag.
"My head first … then my eyes itched," she said.
Pamela Amador, Mariana's cousin was worried.
"We didn't know if she was hurt or not," she said.
Residents who live beneath the LAX approach deal with the noise and they get that planes making an emergency landing need to lighten their fuel load, but they are stunned that fuel would be dumped at relatively low altitude over residential neighborhoods.
"They cannot dump anywhere," said resident Rosana Yancor. "Has to be another solution."
Public health officials, meanwhile, advised residents to avoid contact with any remaining chemical residue. Students exposed were sent home with instructions on how to clean themselves and their clothes, according to the Los Angeles County Health Department.
Those who think they have come in contact with the jet fuel should do a full head-to-toe shower with soap and water, officials said.
Wash any contaminated clothing separately with regular detergent. If odors remain on clothing after thorough washing, they should be discarded.
Officials said that those who have mild symptoms such as skin irritation and upper respiratory irritation such as cough should see the symptoms improve on their own.
But they urged those with lingering health issues to consult their medical provider.
For any life-threatening emergencies, please dial 9-1-1. Public Health will continue to work with the Los Angeles County Fire Department and other partner agencies. For questions and/or more information regarding this incident, call 2-1-1.