Federal and local law enforcement officials arrested close to two dozen suspected gang members Wednesday morning in the largest crackdown on the notorious MS-13 gang in Los Angeles at more than 50 locations, officials said.
"The case we're announcing today is the culmination of a three-year investigation," said Deidre Fike, FBI Assistant Director in Charge. The investigation, which started in June 2014, targeted the leadership and violent members in the gang, along with their ties to the Mexican Mafia.
Charges against 44 alleged members of MS-13 and Mexican Mafia associates were unsealed Wednesday morning, Fike said. Some 34 were charged with federal RICO violations, and five Mexican Mafia associates were charged "in a narcotics conspiracy." Two others were arrested for probable cause for narcotics and weapons violations, she added.
Another defendant "is named in a case filed under seal because he was a juvenile at the time of the alleged offenses," according to the Department of Justice. Three defendants who are not in custody are now considered fugitives.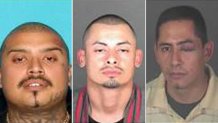 Of those who were charged, 21 were arrested during the raid Wednesday morning. Federal authorities said 20 of the other defendants were already in custody.
"The lead defendant in the RICO indictment is Jose Balmore Romero, also known as "Porky," 43, who in 2013 and 2014 was the overall shot-caller for MS-13 Los Angeles," according to the Department of Justice. Balmore allegedly oversaw the gang's drug trafficking activities, and coordinated collections of "extortionate 'taxes' and 'rent,'" which at times was given to Mexican Mafia members. He has been in custody since 2015.
"This gang is responsible for murders – both of rival gangsters and innocent bystanders – as well as drug dealing and extortion in many communities in the Los Angeles area," said Sandra R. Brown, Acting United States Attorney. "Today's charges and arrests, however, will deal a critical blow to the top leadership of this criminal organization and will significantly improve safety in neighborhoods across this region."
Local
Get Los Angeles's latest local news on crime, entertainment, weather, schools, COVID, cost of living and more. Here's your go-to source for today's LA news.
Three MS-13 members were charged in a racketeering indictment for murders they committed in connection with the gang, a statement from the Department of Justice read. They face a violent crime in aid of racketeering (VICAR) murder charge for the alleged killings of three people in 2015, and are eligible for the death penalty if found guilty.
MS-13, also known as Mara Salvatrucha, is "one of the largest and most deeply entrenched gangs in Los Angeles. A gang that started here in Los Angeles but which has spread its mayhem across the United States and Central America," Brown said.
"In 2012 to 2014, we ranked them as number one as far as violence and criminal activity in a city known for violent street gangs," said Charlie Beck, Chief of the Los Angeles Police Department. "That has changed. Over the last seven years we've seen a steady decline in Los Angeles in MS activity."
"This is an example of what has been effective," he said.
[2017 UPDATED 12/19] 2017 Southern California Images in the News
The Los Angeles Times reported Wednesday that the raid was "based on sealed federal indictments orchestrated before President Trump … took office."
Trump signed an executive order in February specifically directing federal law enforcement to focus resources on combating street gangs and transnational criminal organizations.

In April, Trump tweeted about the gang, blaming the Obama administration as a cause for their formation in American cities.
MS-13 leaders in El Salvador were targeted for financial sanctions by the Obama administration in 2012 as part of an earlier executive order targeting such groups.
The investigation was led by the FBI and the Los Angeles Police Department, and was conducted by the Los Angeles Metropolitan Task Force on Violent Gangs.
The Associated Press contributed to this report.