A family of three accused of mail theft led authorities on a pursuit in Southern California, driving in opposite lanes and narrowly missing other drivers in rush hour traffic, before being taken into custody at a gas station on Friday.
Neighbors reported seeing two men taking mail, including packages, in the Nellie Gail Ranch neighborhood before taking off in a vehicle in Laguna Hills, said Jeff Hallock, spokesman for the Orange County Sheriff's Department.
Sheriff's deputies were dispatched to the 25000 block of Buckboard Lane after neighbors reported seeing the men taking mail from their mailboxes, according to a news release from the Orange County Sheriff's Department.
#OCSDPIO: PURSUIT UPDATE - Pursuit terminated in Downey. Thanks for the assist @DowneyPolice & @NorwalkLASD

— OC Sheriff, CA (@OCSD) December 19, 2015
The chase made its way through surface streets in several Orange County cities including Santa Ana and Anaheim, before the driver took the northbound 5 Freeway into Downey, where he and his wife and son were taken into custody after pulling into an Arco gas station.
The California Highway Patrol was also involved in the pursuit.

Authorities arrested 45-year-old David Brown, his 55-year-old wife Jessie Brown and their 22-year-old son Corey Richardson. All three suspects were from Anaheim, according to the sheriff's department.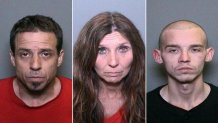 Items believed to have been stolen were found inside the car, deputies said.