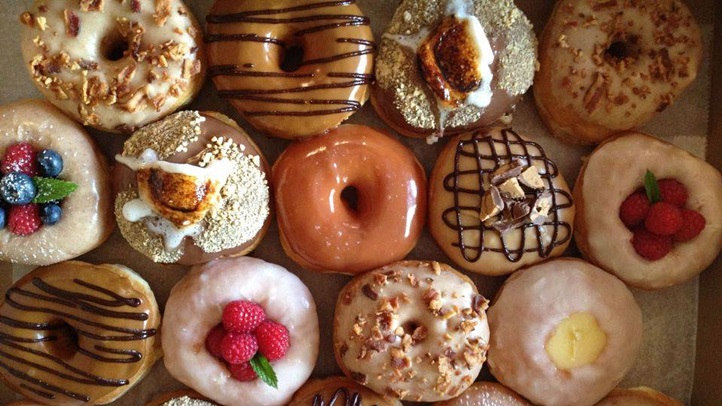 There was a day, along about the second or third grade, that someone arrived in your classroom bearing a box of blondies made by a parent or doting cousin or neighbor.
We got used to that scene, maybe even took it for granted, but that scene, as we all know, dries up come adulthood. Homemade goodies are a rarer treat in the office kitchenette, but our craving for them? Still high, completely warranted, and astoundingly unsated.
Enter Artisanal LA. The every-so-often weekend-long marketplace is devoted to all kinds of local crafts, edibles, and gifts made with care, wit, and, yes, a little love. Meaning you can pick up a necklace for mom, a bag for your daughter, and a whole bunch of donuts or craft fudge squares or jars of honey for your own pantry.
Local
Local news from across Southern California
Artisanal LA is at LA Mart on Saturday, Oct. 12 and Sunday, Oct. 13.
Over 200 vendors will once again be in the house -- er, mart -- purveying in everything from spreadable fruits (hello, Jenkins Jellies and greetings, Laura Ann's Jams) to the Mason Bar Company (yep, Mason Jars are at the heart of the line) to Unurth (pottery meant for displaying with much pride).
And the vendors, by the by? They're actually called "makers," which is true and nice and pays homage to the many hours/days/weeks/months they spend making their confections, both of the craft sort and the eat-it-now sort, too.
Workshops and demos and other hands-ons-y stuff will flower throughout the weekend, too.
You might even buy an extra flat of fancy nut bars or cookies, for the office kitchenette. Everyone at work is just waiting for the whole trend of homemade goodies to start up again. It should have never stopped when we left school, truth be told.
Copyright FREEL - NBC Local Media