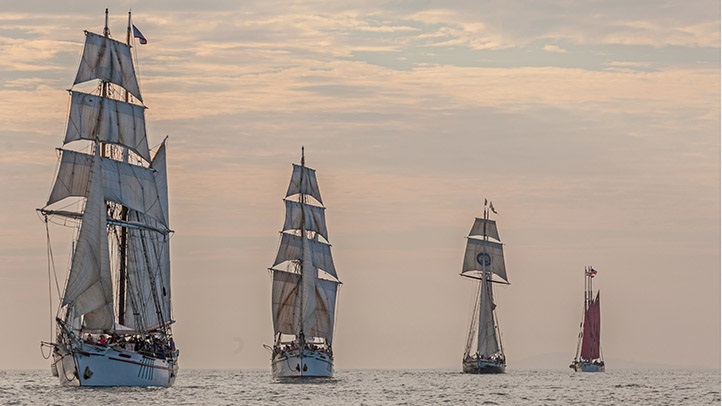 Labor Day Weekend has its longstanding traditions, from backyard cookouts to 5Ks to community picnics.
But the weekend following Labor Day is, around Dana Point, very much about one striking thing: the tall ships. We speak of those mammoth-of-mast, big-of-bow vessels that recall another century when terms like "seafaring" held sway, and we speak of fans turning out, waterside, to admire them, and board them, too.
The Tall Ship Festival will once again return to Dana Point Harbor for three days of sailing opportunities, dockside delights, a Sails 'n Ales party, on-deck tours, legend-filled storytelling, mermaid talks, and re-enactor meet & greets.
Local
Local news from across Southern California
Don your tri-cornered hat and turn your boat, or, erm, car, for Dana Point from Friday, Sept. 9 through Sunday, Sept. 11.
The landlubbery larks are plentiful, and there are a few different harbor-close locations involved, from the Historic Maritime Wharf to the Samueli Conference Center. Best square away your crew on what everyone wants to do (your salty scheduler is right here).
The on-the-water wonders are equally as epic, with cameos from some of the best-known tall ships around. Look for The Brig Pilgrim, Spirit of Dana Point, Bill of Rights, Californian, and other photo-ready sea-worthy wonders. Truly, each ship in the line-up is a star in its own right, and a visit from one to the harbor would draw devotees aplenty.
Your full line-up of the historically accurate vessels has dropped anchor thisaway.
As for the famous and much-photographed Sunset Parade Sail? That always happens on the opening afternoon, which, in 2016, is Sept. 9.
You don't need a compass to find the breeches-and-barnacles bash, a party piloted by the Ocean Institute; you only need to dip your oar in the waves, over and over, with a final stop at Dana Point Harbor.
Cameras are out in photo-amazing force at this one, as is a devotion to the ocean and those storied structures rightly known as the tall ships.
Copyright FREEL - NBC Local Media