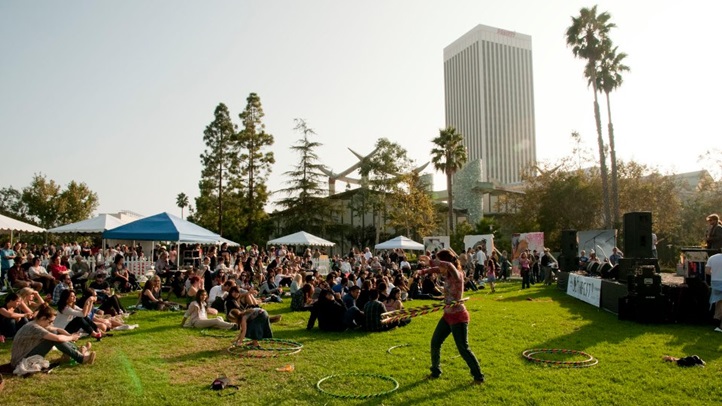 What to Know
Saturday, Sept. 14
Noon to 7 p.m.
Free
Local
Local news from across Southern California
What's the sound of bubbling tar?
If you leaned in, like really, really leaned in, and we absolutely do not recommend that, because the tar pits along the Miracle Mile have earned their sticky, trapped-forever reputation, you might hear something along the lines of the following: gloop, gloop, gloop, pop, gloop.
You get us.
Tar is a viscous substance, with a lot of musicality to its character, but there are some days at Hancock Park that call for less gloop and more pop.
Well, pop and rock and folk and other types of music played on instruments (and not through popping tar bubbles).
And such a day is just ahead, thanks to the return of TARFEST.
This is the super-free, super-breezy, no-fretting-only-frolicking art festival that "pops" up next to the big tar pit at the end of each summer. That's been happening for the last 17 years, making this one of Wilshire Boulevard's most winning-est events.
We say "winning-est" not only because it is free, which is always pretty darn winning, but because so many great bands show up, and artists who create paintings before your appreciative eyes, and food trucks, too.
KRCW DJs will also be in the house, or, rather, the park, if are craving some stylish spins to send the final week of summer 2019 on its winning way.
If you call upon the festivaon on Saturday, Sept. 14, you'll find the Lagunitas Biergarten & Cocktail Lounge, should a libation be in order (the festival is often quite sunny, so refreshing drinks are often desired).
It's not a morningtime thing, and not quite of the evening, but it will be soundful for seven rocking hours, from noon to 7 o'clock.
LAUNCH LA, the non-profit arts outfit, is behind this community come-together.
And it is a true come-together, thanks to the variety of tunes and the fact that it has a nice family-welcome air. Tots aren't included in a lot of concerts around town, but TARFEST is more than a-ok with the whole kid caboodle joining in the good times.
Copyright FREEL - NBC Local Media