Automakers spend years and vast amounts of research and development money on improving the safety features of their vehicles, packing cars with innovations that might have seemed like the stuff of science fiction decades ago. But what about improving the most important safety component -- the driver?
Q&A: The State of Driver Training | CDC: Causes of Death by Age Group

That's where Marc Hemsworth, a 30-year LAPD veteran who served as a driving instructor at the Los Angeles Police Academy, helps teens and their parents help themselves.
He is one of the "driver coaches" at the new Mercedes-Benz Driving Academy (MBDA) in Los Angeles. The academy on 3rd Street near Sweetzer is the automaker's first in the United States, where motor vehicle crashes are the leading cause of death for people age 15 to 20, accounting for one in three deaths among people in that age group.
Local
Local news from across Southern California
In 2009, eight members of that age group died each day from motor vehicle injuries.
During his career with LAPD, Hemsworth also worked as a collision investigator. He saw the consequences of poor decision-making on the road.
"This street was part of my beat," Hemsworth said, glancing out the academy's glass entrance toward 3rd Street. "It doesn't take much before you get very strong feelings about it."

Hemsworth starts his behind-the-wheel sessions at the academy with a driver "head-check." He wants to know how the student's day went. What's on his or her mind? Any distractions that might lead to inattentive driving?
It's about shifting into the proper mindset before even opening the car door.
"The best skill you have is the skill to not have to get out of trouble," said Hemsworth.
Classroom activities and online courses are integrated with the behind-the-wheel sessions. The curriculum, based on research by experts in Europe and North America, is built around the "driver coach" methodology -- instead of telling the teen driver what to do, a coach might let the teen come to a conclusion, then discuss that decision.

"They're a coach, not a teacher," said 16-year-old academy student Matthew Reilly, of Manhattan Beach, who found out about MBDA at the LA Auto Show. "They're really calm, and they're on your side. Even if it's a subtle correction. Even if the driving is going well, they will ask you questions. It's about learning how to react to certain situations, putting yourself in a situation where you and other drivers will still be safe."
Matthew is part of a group that, statistically, is at greatest risk. The motor vehicle death rate for males, age 16 to 19, was almost two times that of females in 2006.

Risk also is highest at age 16. The crash rate per mile driven for 16 year olds is twice as high as it is for 18 to 19 year olds, according to the Insurance Institute for Highway Safey.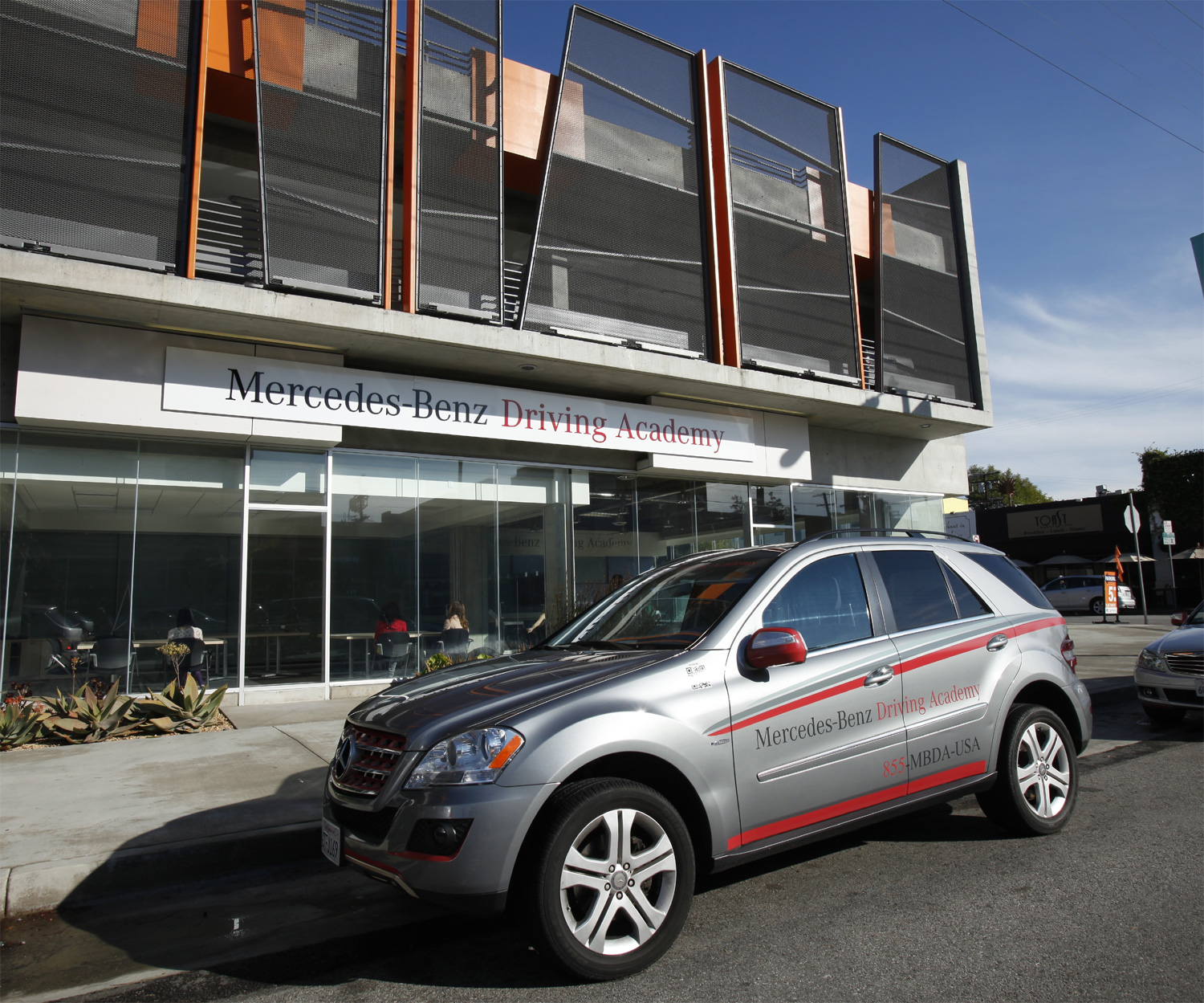 "I learned in six to eight hours in one day. That was a different time," said Steven Reilly, Matthew's father. "Driving now is more challenging than ever. There are many more drivers and an increasing amount of distraction. Our desire was to have a better driving foundation so Matthew can respond to challenges as they might arise."

The academy's methods and partnerships involving educators, law enforcement and parents represent a shift in attitude toward driver training in the United States. Improving safety starts with understanding the consequences, said CHP Officer Leland Tang, who works with teen drivers, parents and groups like Impact Teen Drivers.
"I've heard the studies that say teens don't possess the maturity or understanding or faculties for driving," said Tang. "I tend to disagree. I think that it's not so much the lack of maturity, but a lack of understanding consequences.
"We've used Red Asphalt, and that's one thing, but kids are de-sensitized to blood and gore. When I bring a mother to an auditorium and she talks about what it feels like to lose a son and the pain and anguish she goes through, you can hear a pin drop."
Six Months That Can Make a Lifetime of Difference
Training young drivers involves making the most of California's Graduated Driver's License program, especially the six months after the new driver obtains a learner's permit, Tang said. GDL is the stage system by which a new driver advances from a learner's permit and a provisional license to become a solo driver.
Forty-six states have a three-stage GDL system. Prior to GDL, most states allowed teens to receive full licenses at an earlier age than most other countries. In states that adopted the GDL requirement, crash rates declined 10 to 30 percent by 2008, according to the IIHS.
California, which adopted its GDL requirement in July 1998, requires 50 hours of supervised driving after a teen obtains a learner's permit.

"That 50 hours is not a lot, but it's still something," said Tang. "Parents have to invest in those 50 hours. Think of it as an apprentice program. Some parents just go to the DMV and sign off, but you need to take that time very seriously."
The driver can then move on to the two final stages of the GDL program. But the process is only effective with an honest and accurate assessment of the young driver.

"As a mom, my biggest emotion is fear," said Matthew Reilly's mother, Michele Reilly. "I've never taught anyone to drive."
Matthew is among the first students enrolled in the MBDA's DMV-approved program, which works within the framework of the GDL timeline. The first MBDA opened in the UK in 2009, and freeway-centric LA seemed like the right place to open the first U.S. academy.
Matthew, for example, will be driving from his home in Manhattan Beach to school in downtown LA.
"The driving culture of Los Angeles, more so than any other city in the United States, forces young people on the road whether they want to be or not," said Carolyn Duchene, academy director. "Mercedes-Benz has always been at forefront of safety, and we saw the driving academy as the next logical step."
Students, parents and driving "coaches" participate in Saturday classroom sessions in groups of about six to 10 students. They talk about road safety, the laws of California's roads, recognizing distractions and the decisions that can mean the difference between a safe arrival and a crash that shatters lives. During a vehicle safety workshop, students are asked to identify how a car might be compromised, such as balding tires.
The behind-the-wheel component -- the academy has a fleet of C and ML class Mercedes-Benz vehicles -- includes night-time lessons, freeway driving lessons and situations in other driving environments. It also means quality time with the driver coach at an off-site distracted driving course.
Distracted driving accounts for 25 percent of all reported vehicle crashes, according to National Highway Traffic Safety Administration study. The number is probably higher because of under-reporting -- not everyone involved in a crash will admit they were texting, eating or grooming at the time of the collision.
Nearly 50 percent of teens ages 12-17 report they have been in a car when the driver was texting, according to the Pew Research Center. In 2008, California enacted a law that does not allow drivers under 18 to use a cell phone -- hands-free or otherwise -- when operating a motor vehicle.
Hemsworth might introduce a cell phone or other electronic device during the distracted driving segment, but he also might create a situation involving a friend yelling in the backseat. The scenario demonstrates how a simple task -- braking to avoid a vehicle backing out of a driveway or slowing for traffic stopped at a light -- can become nearly impossible.
"We talk and talk about distracted driving, but then we do something to illustrate the point," said Hemsworth, the driving coach. "People make bad decisions for two reasons -- they either don't have enough information or they have the wrong information. In the case of distracted driving, they're not giving themselves enough information. They didn't see the car pull out, they didn't hear the siren."
The process often leads to an "ah-ha moment" for students and parents, Hemsworth said.
"It may be something simple. You're going downhill, gravity is working against you or scanning the road three to four blocks down the road," said Hemsworth. "You begin to realize there's a lot going on out there.
"We also talk to teens about how they learned something, and when we asked where they learned that, the parents realize that they learned it from them. Sometimes, it's difficult for a parent to take off the parent hat and put the coach hat on."
Parents and students can keep a driver's logbook that tracks progress in various situations -- canyon roads, freeway traffic, wet conditions. It all leads to a final assessment before the student takes the DMV provisional license test.
The academy offers several programs, including a customized program for drivers over 18.
(Click above graphic to enlarge)
Follow NBCLA for the latest LA news, events and entertainment: Twitter: @NBCLA // Facebook: NBCLA