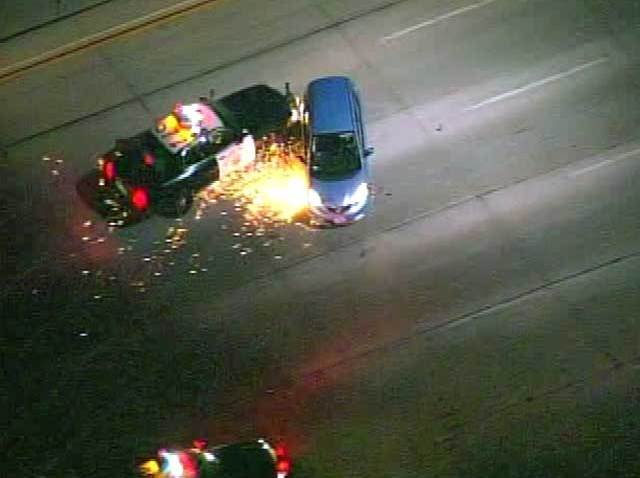 A chase involving a Honda Fit ended in a storm of PIT maneuvers and sparks Tuesday night on the 405 Freeway in North Hills.
One person was taken into custody following the 75-minute chase that began in downtown LA.
The stolen 117-bhp street fighting econobox -- according to one of Honda's online video ads, "when time is of the essence, the Fit is ready for a quick getaway" -- was driven at speeds up to 80 mph. The driver weaved in and out of lanes, north on the Golden State (5) Freeway, said California Highway Patrol Officer Anthony Martin.
Local
Local news from across Southern California
The chase was initiated by the Los Angeles Police Department, with the California Highway Patrol taking over when the car left the Los Angeles Basin, Los Angeles Police Department Officer Rosario Herrera said.
Ground units held back when a helicopter unit tracked the car.
The driver exited the northbound Golden State Freeway at Lake Hughes Road in Castaic, then re-entered on the southbound side.
A spike strip was deployed when the car went to the San Diego (405) Freeway and at least two tires were punctured. As the car limped its way into North Hills -- the rims shooting sparks like a circular saw on metal -- CHP officers tried a PIT maneuver.
Then they tried another.

And another.
Finally, the battered little car spun and a patrol unit blocked its path.
The chase ended at Devonshire Street at 8 p.m. The driver was taken into custody without incident.