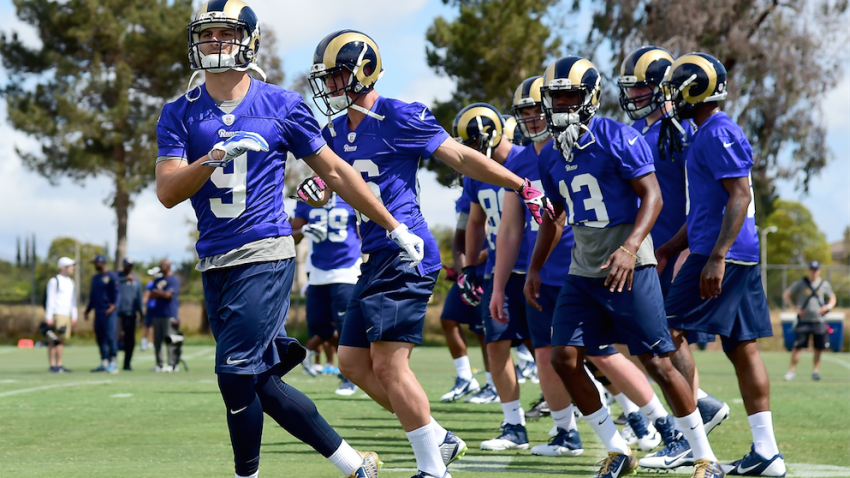 The premiere episode of HBO's "Hard Knocks: Training Camp with the Los Angeles Rams" debuted on Tuesday night and so began the 11th season of one of the most interesting reality shows in the history of television.

If you missed the debut, fear not friends, we have the best moments from the first episode as we were introduced to many over the more colorful players and harsher realities of life in the NFL.
Before we begin, it's imperative to note that the show's main character is the city of Los Angeles itself. The first episode featured flybys of the city's best features, copious amounts of beach scenes, "California" themed songs, and made sure to hammer home the point to audiences that LA is the city of beautiful weather, people and landscapes.
1. It's a 'Hard Knock' Life for Us:
Local
Local news from across Southern California
For those that thing life in the NFL is a charmed and privileged existence, you're only half right. We learned that an "Old School Training Camp," is not that much fun as the Los Angeles Rams players have to sleep in tiny dorm rooms with no air conditioning and rock hard mattresses.
Players have to bring their own bedding, participate in group yoga sessions and there are some hard and fast rules: (1) be on time and (2) no female guests. Seems pretty cut and dry, but as we saw early on in the episode, one player found out the hard way.
2. No Females Allowed:
The most raw and heart-breaking moment of the premiere episode took place in LA Rams Head Coach Jeff Fisher's office. Fisher brought wide receiver Deon Long into his office to confront him about bring a woman into his dorm room.
"What part of the rules, what part of 'no female guests in the room,' did you not understand?" says a stern Fisher in the meeting that was shown on television for the world to see.
Long explains that his female guest came over to drop something off and left before curfew, but it made no different to Fisher as he released Long right there on the spot.
"Sorry, but this is our world, man," explains Fisher. "We have rules and we have to abide by them. Not the first time I've done this for this particular violation, but I thought I made myself really clear."
We're curious if the same punishment would extend to stars Aaron Donald, Todd Gurley and Jared Goff in the same situation, but thankfully for Rams fans, we did not get an opportunity to find out.
Fisher was furious with having to cut one of his players for breaking a straightforward and simple rule and it led to the best line on the show when he told the team that Long was gone later that day.
"I'm not f---ing going 7-9!" yelled Fisher. "We had some 7-9 bulls--- this morning and we can't have that. Deon is gone. That is 7-9 bulls--- and we don't need it."
Ironically, just days earlier, the Bennett brothers Martellus and Michael did an interview with ESPN when they were asked questions and told to respond with one-word answers. When the duo was asked about Jeff Fisher, there response was appropriate "7-9," they said smiling.

In case you're interested, Deon Long landed on his feet and signed with the Philadelphia Eagles a couple days later.
3. The man of a 'Thousand Tank Tops'
We met a lot of Rams players in the premiere episode of the show, but a star was born when audiences were introduced to starting center, Eric Kush. True to form, Kush unveiled his extensive tank-top collection while unpacking at his dorm room.
"These are my going out tanks," he said seriously. "These are my workout tanks, classic Gold's Gym tanks, patriotic tanks, and stringer tanks."
Kush also showed off his countless pairs of brand new socks as he let the audience in on a training camp secret, "by new socks so you never have to do laundry."
Kush also was responsible for some of the most LOL lines in the show when he tried to develop chemistry with rookie quarterback Jared Goff.
Kush: Smack the butt so I know you're ready to play football.
QB Coach Chris Weinke: He's going to sick his knuckle in your ass----!
Kush: That's what I told him to do. Get in there!
4. Growing Pains:
Jared Goff, the no. 1 overall pick in the 2016 NFL draft, is certainly going to have some growing pains in his first full season playing professional football.
On the premiere episode, we learned that Goff comes from a no-huddle offense at Cal with a very limited playbook. During Training Camp he will need to learn a playbook that is the size of a J.R.R. Tolkien novel and build chemistry with his teammates.
Goff tries to make a good first impression with his new team when he purchases 60 fans for the offense and coaches on the first day of training camp. It was a nice gesture to overcome the lack of air-conditioning, but as coach Fisher explains:
"So the offense has fans and the defense doesn't? That's a great way to start with your new teammates."
Goff get's plenty of rookie hazing during "Hard Knocks," as coaches and players make fun of him for his love of Taylor Swift, and we learn that Goff did not know which direction the sun rises and sets (hint: it rises in the east and sets in the west).
The sun rising conundrum becomes an ongoing joke throughout the episode as we learn that a lot of players on the LA Rams have no idea which direction it rises and sets also.
In the end, Goff impresses some of his teammates with some pin-point accuracy passes and stays late after practice ends to work on throws with receivers—most notably Kenny Britt.
5. Tavon Austin Plays Pokemon Go:
On the first day of Training Camp, the Rams get quite the scare when star wideout, Tavon Austin has to get carted off the field for dehydration. Austin explains that he drank a lot of water, but only ate two bananas that day and thus the reason behind is injury is explained.

Coach Fisher is not impressed and neither are his teammates. "He's too fast to go out like that."
Thankfully, Austin overcomes his rocky start to training camp, and decides to improve his conditioning by playing some late-night Pokemon Go with a young Rams' intern.
Austin and the kid cruise around the UC Irvine campus hunting Pokemon in search of Pikachu. At first, Austin seemed hesitant about the game, but by the end, he's hooked.
Episode 2 of "Hard Knocks" will air live on HBO on Tuesday, August 16, 2016 at 10:00 PM PST.
CAUTION: Many of the videos in this story contain language that is NSFW.