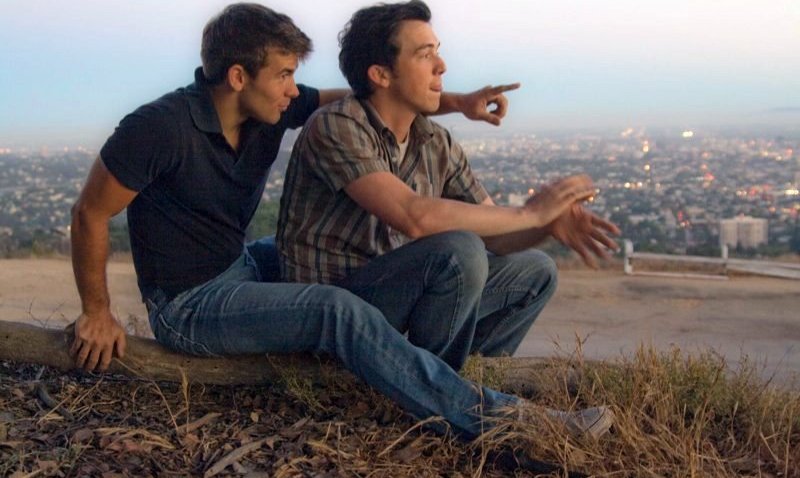 Is it just me, or are some of the best films made on a shoestring budget?
Shot in West Hollywood in 12 days for under $75,000, "Is It Just Me?" is the low-budget film that is receiving critical acclaim.
The film tells the story of Blaine, played by Nicholas Downs, a good guy who thinks he's found Mr. Right online. But technology complicates things when he realizes he's been logged in on his hunky roommate's account.
Local
Local news from across Southern California
When Mr. Right arrives to meet Blaine, it becomes a comical case of mistaken identity. The audience is left wondering whether Blaine's brains will win out over his go-go dancer roommate's brawn.
"I wanted to write a Jennifer Aniston movie but for guys," said writer/director JC Calciano. "When I was dating, I was struggling with meeting that person at a bar. So I wrote Blaine as myself. I am that defeatist character, insecure about my looks, my own worst enemy."
"Is It Just Me?" was Calciano's first gay comedy, and the first film he had ever written.
"I'd never directed or written a narrative before, and then I turned 45 and I thought, I'll just take a chance and do it," said Calciano. "I got a couple of friends and a couple of dollars and took a shot at it."
The gamble certainly paid off. He wrote the film in June 2009, shot it in July, and since then it has been featured in 25 film festivals and has won two awards: the Rainbow Award at the Honolulu Film Festival and Best Picture at the Detroit Film Festival.
"Frankly I was terrified that it wouldn't even come together. My aspiration was to make a little movie on DVD that someone might see," said Calciano. "And now that it's been as well received as it has been, it's just beyond my imagination."
Now it is set for a theatrical release in New York in October, followed by its DVD release in November.
The film recently sold out at its L.A. premiere during Outfest 2010.
"If we wanted to win an audience over, it was the L.A. audience. The audience in L.A. is going to be a little pickier, a little more discerning, a little more critical," said Downs, who says he's nothing like the main character he portrays. "I'm not like Blaine; he's a much more glass-half-empty person than I am. But there's a little bit of Blaine in all of us, which is that self doubt and second guessing ourselves. Looking across the bar and seeing someone that's good looking and thinking, that person is probably not interested in me."
Downs didn't take "playing gay" lightly. He became an "out" actor as a result of the film's publicity.
"I was told a while back that I should not take any gay roles," said Downs. "It was the right piece. Like horror films, (gay films) are often made very cheaply and very quickly. But when I saw this, I thought it was a very good universal love story."
Calciano felt it was about time for a gay comedy with heart.
"I like gay films, and I love romantic comedies," said Calciano. "I wanted to make a film that reflected my community in a positive way."
His community is the one-mile long city of West Hollywood, where "Is It Just Me?" was entirely shot. It takes the viewer through some of the most popular parks, bars and coffee shops in town. Much of the movie was shot on the street, in an homage to the city Calciano loves.
"West Hollywood is a great place. There are three real touchstones in this country for the gay community -- New York, San Francisco and West Hollywood," said Calciano. "I think it's important that a kid in some mid-American town who feels like he doesn't fit in and he can't represent himself, that there's a place he can go where he will be the majority."
Downs' personal story closely echoes the small-town picture painted by Calciano. Fourteen years ago, lead actor Nicholas Downs' was a "mid-American" kid. Growing up on a farm in Iowa, Downs' said coming out to his conservative family was difficult. He said he is still dealing with the aftermath.
"Time is definitely a healer," said Downs. "It's difficult when someone puts their walls up, to not put your walls up."
With the film's success, Downs wonders if his family will start to lower these walls. The film is so successful that it is soon coming to a theater an hour away from the small town where he grew up. It's the first gay feature that theater will be playing.
"I don't know if my family would come out to see a movie about gay people," said Downs. "If my dad goes, it'll be a miracle. But I'm really proud of this piece. I'd love it if he did."
This very personal example is exactly the kind of sharing and perhaps understanding Calciano hoped for when he set out to write the film last year.
"My goal was to make a film we can show our family and friends and say, 'Look, this is how we are, this is how we live, and this is how we love,'" said Calciano.