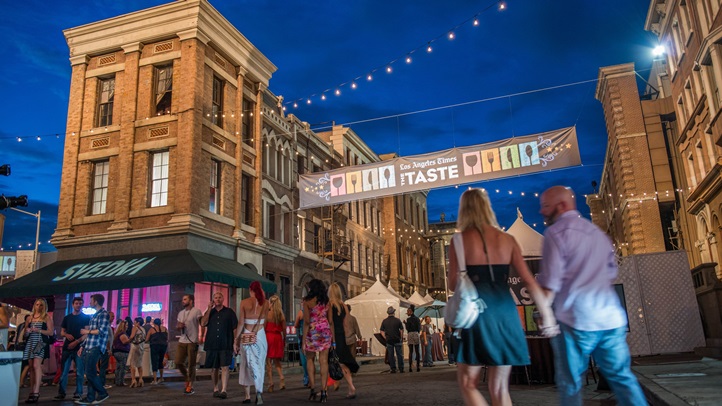 Neighborhood block parties, the kind filled with various foodstuffs and various beverages and pals meeting up to nosh 'n chat, are a staple of Labor Day Weekend.
Surely one of the most unusual and cinematic block parties around happens not on a traditional neighborhood street but the sort of street seen in the movies. It's The Taste, from the LA Times, and it once again spreads out at the Paramount Pictures backlot.
There are a number of flavorful goings-on from Friday, Sept. 2 through Sunday, Sept. 4, from an opening night soiree to a locally focused Field to Fork happening on Sept. 3.
Local
Local news from across Southern California
Dinner with a Twist includes "the extraordinary culinary creations of the city's best chefs," along with "an unforgettable stroll through a studio backlot," while Flavors of LA, on Sept. 3, celebrates our region's "vibrant collection of eclectic cuisines."
Mr. Jonathan Gold, food critic/LA maven extraordinaire, is at the helm.
And as for the aforementioned, broadly-hinted-at block party? Be at Paramount on Sept. 4, in the middle of the day, for a dazzling array of noshables from some of our area's most masterful cuisine-ists.
Is this like the block party in your cul de sac? Well, the party does take place where the dance sequence from "Austin Powers: International Man of Mystery" was shot, and the marble rye scene from "Seinfeld," too.
It is, without question, a starry block party for a starry city, with the primo vittles and libations to match its movie-cool setting.
Copyright FREEL - NBC Local Media