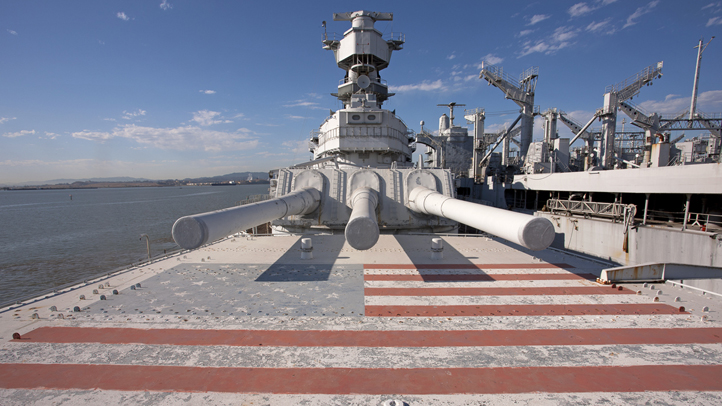 The USS Iowa will celebrate the Fourth of July with Mayor Antonio Villaraigosa, Franklin D. Roosevelt's great granddaughter, and California and Iowa congress members.
The festivities starts at 12 p.m. and will include speeches from the Los Angeles mayor, Iowa Gov. Terry Branstad, Iowa Sen. Tom Harkin, U.S. Rep. Janice Hahn, Julianna Roosevelt and more than 1,000 U.S. veterans, according to the Pacific Battleship Center.
The battleship served the United States for more than 50 years and is nicknamed the "Battleship of Presidents" because it has hosted Franklin D. Roosevelt, Ronald Reagan and George W. Bush. It was also known as the "World's Greatest Naval Ship," thanks to its longevity, big guns and heavy armor, according to the Pacific Battleship Center.
Local
Local news from across Southern California
The ship was moved from Richmond, Calif., to Berth 87 at the port of Los Angeles on June 9. It will open to the public this month as an interactive naval museum, according to the Pacific Battleship Center.
"When I first got my orders in 1986, I had no idea what a BB was 'til I asked my 'A' school teacher, all he said was, 'damn, I wish I had those orders.' After getting to the ship, I instantly knew why. Such an [awesome] feeling to step across that gangplank for the first time. Now I'm [always] lookin' for an excuse to talk about her," veteran Ken Armstrong wrote on the Pacific Battleship Center website.
The USS Iowa can be seen from Harbor Way (map).
Follow NBCLA for the latest LA news, events and entertainment: iPhone/iPad App | Facebook | Twitter | Google+ | Instagram | RSS | Text Alerts | Email Alerts