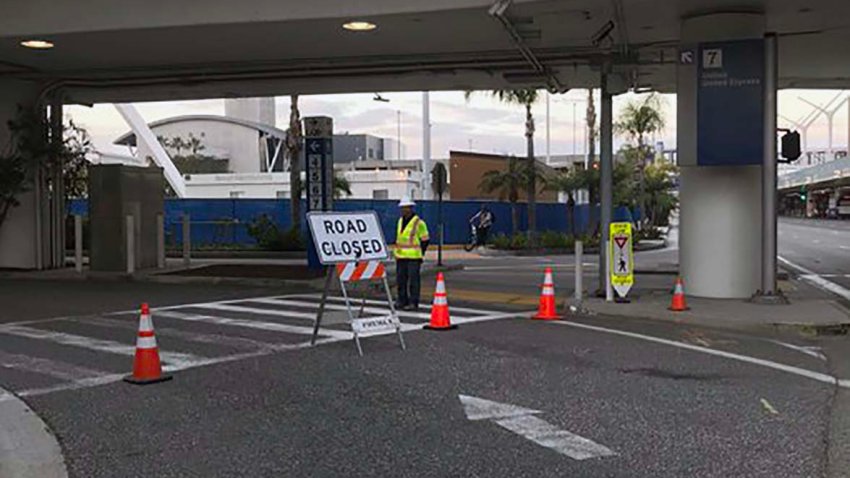 What to Know
Beginning Jan. 13, southbound East Way from World Way to Center Way will be closed
The road will be closed until the morning of Jan. 27
Construction crews are installing foundation piles for the Automated People Mover, set to open in 2023
Road closures are in effect for the next two weeks at Los Angeles International Airport's Central Terminal Area for the Automated People Mover construction project.
Beginning Monday, southbound East Way from World Way to Center Way will be closed until the morning of Jan. 27. Construction crews will install cast-in-drilled-holes foundation piles. The process, commonly used for bridge projects, involves casting reinforced concrete piles into drilled holes to prevent caving.
The foundation piles will be installed at the intersection of East Way and Center Way.
Drivers can still enter Parking Structure No. 1 and exit onto Center Way. All other traffic will be directed to World Way to exit the Central Terminal Area.
The People Mover, an electric train system that will carry passengers to and from the airport on an elevated guideway, is scheduled to open in 2023. The goal is to reduce traffic in the busy Central Terminal Area.
The APM will run nine trains at peak hours. Those trains consist of four cars that can carry up to 50 passengers apiece and luggage.
Trains will top out at 47 mph during the 10-minute end-to-end route from Consolidated Rent-A-Car Facility to the West CTA Station.
Images: Opening in 2023, Here's What LAX's Automated People Mover Will Look Like