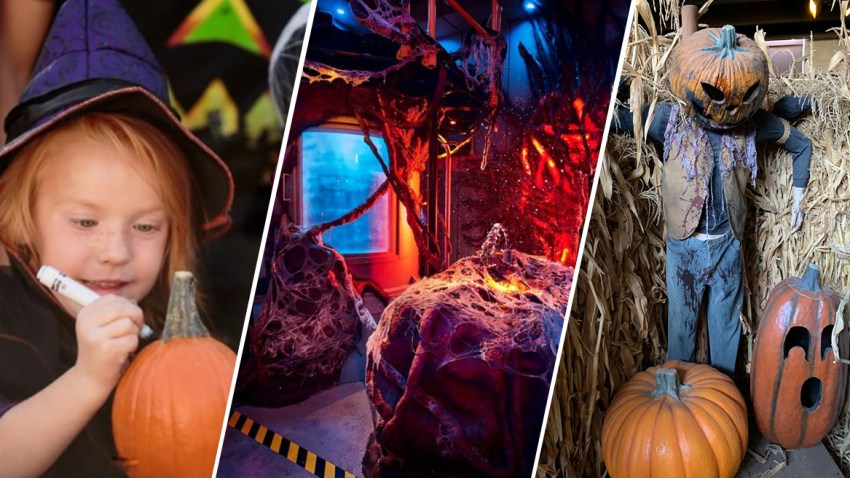 It's October and ghouls just want to have fun. If you're looking for family-friendly and downright devilish activities to get into the Halloween spirit, here are some of the many events this month has to offer.
Theme Parks
Halloween Horror Nights
Local
Local news from across Southern California
Considered the "scariest event of the year," Halloween Horror Nights promises to blow your soul away.
This year's Horror Nights counts with super scary mazes and attractions which include:
Stranger Things
Trick 'R Treat
The First Purge
Poltergeist
Halloween 4: The Return of Michael Myers
The Horrors of Blumhouse: Chapter Two
Universal Monsters
The Walking Dead Attraction
Terror Tram
For more details check out Mazes and Attraction here.
Check out this year's Scare Zones.
Guest will also have the chance to see a JABBAWOCKEEZ show.
Halloween Horror Nights which runs through Nov. 3. There are a variety of entry tickets you can choose.
If you are only considering a single night experience, you can choose from the following options:
General Admission
Universal Express
After 2pm Day/ Night
Universal Express After 2pm
R.I.P Tour
If screaming and running from horrifying creatures if your thing, then you can purchase the frequent fear passes, which include:
2 Nights of Fear Pass
Frequent Fear Pass
Ultimate Fear Pass
For more details on event admission, dates and tickets prices, visit this page.
This event is not recommended for children under the age of 13. Not costumes or masks are allowed.
Nab an Early Peek at Universal's 'Stranger Things' Maze
Plus, check out the Stranger Things menu. (Of course, there is a plate of Eleven's Eggos.)
Eye the Halloween Horror Nights 'Stranger Things' Eats
Ready for evil clowns, super villains, possessed dolls and demonic nuns?
Face your deepest fears at Warner Bros. Studio Tour Hollywood from Oct.5 to Oct.28.
Besides mazes, there will be SFX make-up demonstrations, the Lost Boys retro arcade and a chance to see Tim Burton's authentic props and costumes from some of his iconic movies.
Also available: Food, drinks, music and performances.
The event is for 13 years and up, Ticket price varies by date.
Care to join "The Loser's Club"? For an additional price, get front of the line access, free parking, free IT photo opp and two complimentary beverages.
Once You See IT: Wander Through Your Favorite Horror Films at Warner Bros.
Mickey's Halloween Party
This family-friendly event runs through Oct. 31 and is exclusively for party ticket holders, including early access to both parks, up to three hours before the event!
Upon arrival, each guest receives a bag for trick-or-treating but you can also bring your own. Follow the treat trail by using a special map or the Disneyland app to discover trick-or-treat stations.
Looking for allergy-friendly or sugar-free treats? Ask a cast member at any of these locations for help along with a list of ingredients, while supplies last.
Get the full experience and watch the Halloween Screams fireworks, listen to the bone chilling tunes of the Cadaver Dans, and encounter The Headless Horseman marching down Main Street.
Meet and greet characters in their Halloween costumes and take wicked pictures with some of the Disney Villains right in the middle of Town Square.
Everyone hail to the pumpkin king! A new parade will take place this year featuring Disney villains and Haunted Mansion characters.
All guests are welcome to use costumes but must be family-friendly and follow Disney's guidelines.
Ghosts 'n Grins at Disneyland's Halloween Time
Aside from the fab spooky decor, both Disney Parks offer various ways to get into the Halloween spirit.
Tours: For $85 you can book a 2.5 hour tour around the parks and learn about the legends of the park's creepy characters and their creators.
[[491755001, C]]
[[494549101, C]]
Knott's Scary farm is offering endless nightmares.
The Halloween-transformed theme park features haunted mazes, attractions and shows.
You can also scream along with more than 1,000 horrifying creatures coming at you in every corner of the park.
Tickets start from $44 through Oct. 31.
But if you really enjoy haunted dreams, Knott's Scary farm is also offering its "Haunted Dreams Hotel Package" which includes:
Hotel
Scary farm admission
Buffet and early entry
Packages start at $280 per night.
Fear Is Temporarily, Selfies Are Forever at Knott's Scary Farm
Be ready to scream and look for a place to hide!
Six Flags Fright Fest is here until Oct. 28.
This year's Fright Fest is filled with zombies, nightmares and screaming.
Make sure to check out the haunted attractions and scare zones.
Rides also sound better at night—especially in the dark and with horrifying company around.
For more information on tickets and dates you can go here.
In addition to the haunted houses and mazes, Fright Fest is also having the 30-Hour Coffin Challenge.
How it works: Six coffin dwellers will have to spend 30 hours in a coffin with certain limitations such as a one six-minute bathroom break every hour.
The winner will receive $300, a 2019 Gold Season Pass, and a Express Haunted Maze pass.
To qualify to be one the bravest coffin dwellers, participants must meet the following requirements:
• Must be 18 or older and have a valid photo ID.
• Cannot have a medical conditions that would make lying in a coffin for 30 hours a risk.
• Must sign a waiver at check-in
For more information on requirements, you can go here.
Six Flags will provide all meals to coffin dwellers, a "Delux, used coffin," a phone charging station, and random visits from the Fright Fest freaks.
Participants are allowed to have a friend with them during Fright fest operating hours.
The Coffin Challenge starts today at 12 pm and it ends tomorrow, Saturday, October 13 at 6:00 pm.
Spooky Things to Do
Every day is Halloween at this Tim Burton themed restaurant and bar! The Tim Burton inspired restaurant is located at 6356 Hollywood Blvd, Los Angeles and hours are Wed. through Sat. from 5 p.m. through 12:30 a.m. and Sunday's 5 p.m. through 12 a.m.. Reservations to eat here are highly recommended as it's a small place and they book up quick. Kids are welcome but bring them at your own risk since all servers, bartenders, and entertainers are in costumes and some of the characters might freak the little ones out.
Ever wonder how Halloween tastes?
Salt & Straw came out with a spooktacular series of ice cream that will be available until Oct. 31.
Treat yourself with some of the limited edition ice cream flavors such as, Creepy Crawly Critters, a green-toned ice cream with wait for the best part…real dark chocolate covered crickets and coconut toffee-brittle mealworms. Or Dracula's Blood Pudding, a light brown ice-cream made out of a combination of warm spices, cream and pig's blood.
Spooky Science
Attend the monster academy and experience the spooky STEM-tivities.
This kid-friendly event takes place at the Discovery Cube in Orange County until Oct. 31, at 2500 N. Main Street, Santa Ana.
Purchase tickets here and make sure to check the calendar for dates and times of the events.
Free Spooky Makeup
Don't let these monsters take your spotlight! Through Nov. 3 make sure your makeup's on point for the Halloween Horrow Nights and book a free makeover at Sephora on CityWalk. The 15-minute touch-ups come in two versions: "Vampire's Kiss", which includes an intimidating black pout with bloody accents and "Sinfully Smokey," featuring a smokey eye complimented with a glittery winged eyeliner making the eye pop, paired up with a dark half painted lip.
Celebrate Halloween in Downtown Los Angeles with pumpkin patches, trick-or-treating, ghostly games, Japanese horror film festival and a haunted ghost tour. Make sure to check dates, times and location for the specific events you want to attend. The infamous block party and costume contest will take place at E 2nd St & S Central Ave, Los Angeles on Oct. 27.
Griffith Park Ghost Train
Location: 5202 Zoo Dr. Los Angeles, CA 90027
Dates: Click here for dates.
Time: 7 p.m. to 10 p.m.
Your Halloween adventure awaits. This is a family-friendly 23-minute train ride through an imaginary world.
There's about 30 creative displays and don't worry: there aren't jump scares or bloody decorations.
General Admission is $20 and tickets are available at the gate the day of the event. There are two online ticket options available. There are express tickets for $30 and advance tickets for $25. It is asked for riders to be at least 34 inches tall and weigh less than 350 pounds.
Beloved Griffith Park Ghost Train Making Its Halloween Return
Haunted Hayride in Griffith Park
Leave the wee little trick-or-treaters at home for this one. The LA Haunted Hayride, while in the same vicinity as the Ghost Train, is a little different. At the Old Zoo in Griffith Park you will sit on a lengthy hayride where, yes, you actually do sit on actual hay, and not hay bales, as it wends through numerous wicked and whimsical scenes. Tickets start at $35.99 for select nights through Oct. 31. The haunt is recommended for children 8 years and older. Learn more about it here.
Dark Harbor at the Queen Mary in Long Beach
For scream-filled dreams Sept. 27 through Nov. 2 on select nights, you can take your love of horror to the water on the Queen Mary in Long Beach. There are six terrifying mazes and secret rooms, live entertainment, bars and exciting rides. Admission starts at $20. If you are brave enough to stay aboard the storied haunted ship, rates to book a room start at $85 with special code "NIGHT."
Booking a night on the Queen Mary, called one of the "Top 10 most haunted places on Earth" by Time Magazine, allows guests to see the "alleged paranormal activity" that makes the ship so unique.
Dark Harbor Brings Scary to the Queen Mary
Location: 2301 San Joaquin Hills Rd, Corona Del Mar, CA 92625
Date: Aug. 31 to Oct. 21
Times: 9 a.m. to 6 p.m.
Tour the castle, explore each corner and buy some creepy Halloween decor. Best of all? No tickets required! Fly on over to Roger's Gardens and learn magic like witches and wizards.
Pumpkin Patches and More
Cal Poly Pomona Pumpkin Festival and Pumpkin Patch
Location: 4102 S. University Dr. Pomona, CA 91768
Dates: Oct. 9 to 31
Hours: Hours vary.
Go on a treasure hunt through the corn maze that is taller than 12 feet, find your way out and receive a 'Maze Magician' button.
Play and compete in games run by student clubs, enjoy live music, food and hay wagon rides.
There are many attarctions for little ones such as the kid's pumpkin patch, farm kids activity zone and kid's corn maze.
Planning on taking a field trip? Check out what dates and times are available.
Parking is free but limited, and while admission is free into the Pumpkin patch, fees apply for other activities.
Location: 15200 Rinaldi St, Mission Hills, CA 91345
Dates: Sept. 29 to Oct. 21
Festival Hours: Monday-Friday 1 p.m. to 5 p.m. and weekends 9 a.m. to 5 p.m.
Pumpkin Patch Hours: Open daily from 9 a.m. to 6 p.m.
Go through the four acre corn maze and find all 12 hidden riddles, keep track of them in your scorecard and enter it for the Corny Grand Prize. This year's corn maze design celebrates 100 years of John Deere. Check here for rules and pricing.
Entry is free but attraction prices for 3 years and up are $15 per person which include the Corn Maze, Train Ride & Farm Frolic area.
A giant pumpkin jumper, hay pyramid and the Haybale Mini Maze are some of the many things the Farm Frolic area has to offer.
On weekends you'll find a refreshment stand, live entertainment, pony rides, a petting zoo and face painting.
Unfortunately, educational school trips are not offered this season.
Location: 10100 Jefferson Blvd., Culver City, CA 90232
Dates: October 5-30. Closed Oct. 15
Hours: Sunday – Thursday 9 a.m.-8 p.m., Friday and Saturday 9 a.m.-9 p.m.
Ride giant rocking horses, explore the pumpkin village, decorate pumpkins and take part in many other activities at Mr. Bone's Pumpkin Patch.
Dress up your furry friends in their best dog costume as there will be a contest on Oct. 17 from 5:30 p.m to 7:30 p.m. sponsored by Best Friends Animal Rescue and on Oct. 26 get your sweet tooth ready for Mr. Bones annual trick-or-treat event.
There will be entertainment on select nights and food trucks will be on site.
Admission is only free Monday through Thursday and Friday's from 9 a.m. to 5 p.m. Tickets can be purchased in person or online.
Location: Fairplex . 1101 W McKinley Ave, Pomona, CA 91768
Dates: Oct. 12 to Nov. 4, except Halloween

Hours: 5 p.m.-10 p.m.
Discover the Forbidden Pumpkin City, dig for treasure in the Pumpkin Pirate Cove and explore six other lands built out of more than 3,000 hand-carved artificial and real pumpkins. Enjoy games and entertainment such as the Spirit of Pumpkins fire show, demonstrations by professional pumpkin artists, fire breathers and dancers. Little ones can take part in a scavenger hunt, catch a screening of Disney's "Coco" or get their faces painted. Local food trucks will be on site selling food and beverages.
Tickets prices vary, as there is general admission from 5:30 p.m. to 7:30 p.m. and night owl specials from 8 p.m. to closing time. It is recommended to reserve tickets online in advanced as there are limited tickets sold on-site. Parking is $12 at Gate 17 on Fairplex Dr.
Location: 32335 Live Oak Canyon Rd., Redlands, CA 92373
Dates: Sept. 22 to Oct. 31
Hours: Hours vary, check calendar

Farm admission is free Monday through Thursday. On Wednesdays, Farm Fun Bands are available at the gate for $19.95, granting unlimited access to most attractions.
From Friday through Sunday admission is $5. At the event, one can enjoy live music, buy food, access the farm, flower garden, pumpkin house and pumpkin patch. Watch pig races, or a magician (who's only there on Saturdays and Sundays). Go on tractor rides or strike a pose with some of the fall photo props around the farm.
Tear it up in the corn maze, carousel, bouncy houses, zip line, pumpkin blasting, paint balling and 30 other attractions, specialty activities and carnival games are available to choose from.
Get tickets here.
Location: 6020 W. Jefferson Blvd. Culver City, CA 90232
Dates: Oct. 6 to Oct. 31
Hours: 9 a.m to 8 p.m.
Searching for the perfect looking pumpkin for Halloween?
Shawn's Pumpkin Patch might have it, and the best thing yet — entry is free.
At Shawn's Pumpkin Patch you can find fun attractions for all ages, such as:
Bounce houses
Ponies
Petting zoo
Train rides
Straw maze
Giant slides
Kiddie rides
Face painting and so much more!
If you're thinking of throwing a Halloween or pumpkin themed birthday party, check out the packages here.
You can find field trip information here.
Nights of the Jack in Calabasas
Nights of the Jack will feature thousands of hand-carved, illuminated pumpkins at the the historic King Gillette Ranch in Calabasas. It's good, family fun, and the ranch promises a "Halloween season like never before!"
Tickets for everyone 13 years of age and older are $25, children's tickets (4-12 years old) are $20, and babies 3 and under are free. It's on Oct. 11 through Nov. 4 at 26800 Mulholland Hwy., Calabasas, CA 91302.
Planning to go to the LA Zoo sometime this month?
The LA Zoo is hosting a spooky event throughout the whole month of October.
There will be entertainment and different activities on weekends—such as live shows, special animal feedings and themed photo options for people from all ages.
Trick-or-treaters are welcome Oct. 20, 21, 27 and 28, as there will be treat stations throughout the zoo.
Don't foget to wear a costume!
Vampirates at Pirates Dinner Adventure Halloween Show in Buena Park
Just a hop, skip and jump away from Knott's Berry Farm, Pirates Dinner Adventure -- kind of like a Medieval Times Dinner and Tournament but with pirates -- is going ghoulish for Halloween.
The family-friendly show is on Oct. 5 through 31, and features death-defying stunts, swordplay, duels to the death, and a dastardly crew of Vampirates.
Enjoy a four-course dinner while the show rolls on.
Tickets range from $37 for kids under 11 to $62 or more for adults. They offer military discounts.
Adults Only
Free "Beware the Dark Realm" Haunted House in Santa Clarita
This one is not for the kids! The Beware the Dark Realm haunted house, an award-winning haunt, is so scary, children under 10 years old are encouraged to stay home. See the shockingly real realm Saturday, Oct. 13, Friday, Oct. 19, Saturday, Oct. 20, Friday, Oct. 26, and Saturday, Oct 27.
Location: 28621 Sugar Pine Way, Santa Clarita, CA 91390
Admission is free, but donations to the Sivley Family are welcome. With a $5 donation per person to the SCV Child and Family Center, each person can snag a front of the line pass.
Hours: 7 p.m.-10 p.m.
The Cauldron Spirits and Brews in Buena Park
Looking to enjoy some "spirits" for Halloween? Fun is bubbling up at a Halloween-themed tavern in Orange County. The Cauldron Spirits and Brews is across Beach Boulevard from Knott's Berry Farm. The Cauldron's Executive Chef, Lara Hannemann, once served as a Creative Director at Knott's Berry Farm. You'll find "...enchanted décor, ornately framed vintage illustrations of witches and cats, flickering lights, and more," plus "wooden beams, potions, 17th-century relics and a familiar magical white owl." Hours? 2 p.m. to 2 a.m. Wednesdays through Sundays.
An Eerie Tavern Bubbles in Buena Park