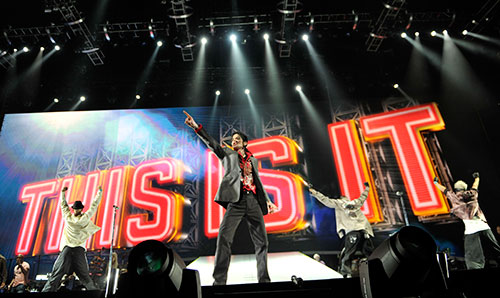 After endless television coverage, weeks of court wrangling, advance ticket sales and worldwide publicity campaigns, the Michael Jackson rehearsal-footage film "This Is It" will open Tuesday in selected theaters.
Hundreds of fans are expected to begin lining up by late afternoon for 9 p.m. advance screenings of the film. A red-carpet premiere is planned in downtown Los Angeles.
Some of those fans waited in line for days last month for a shot at 3,000 tickets for the early screenings of the film, which will open nationwide for a limited two-week run on Wednesday. In London, more than 30,000 tickets were sold within 24 hours.
Local
Local news from across Southern California
The film "This Is It" was compiled from more than 100 hours of rehearsal footage taken between March and June at Staples Center and the Forum in Inglewood. The movie will also include a retrospective of his career and interviews with friends and collaborators.
The release of the film had to be approved by a Los Angeles Superior Court judge overseeing probate matters involving the singer's estate. Film promoters note that the film is now being released "with the full support of the estate of Michael Jackson."
So far, the film has at least one rave review. Actress Elizabeth Taylor, a close friend of Jackson's who said she saw the film last week, wrote on her Twitter page that the movie "is the single most brilliant piece of filmmaking I have ever seen. It cements forever Michael's genius in every aspect of creativity."
A premiere of the film is scheduled for 6 p.m. at Nokia Theatre at L.A. Live, with red carpet activities scheduled to begin at 4 p.m. It was unclear exactly who would be attending the gala premiere, but the event will be Webcast live at www.ThisIsIt-Movie.com and www.crackle.com. The U.S. Webcast will be hosted by radio personalities Big Boy and Luscious Liz.
Jackson, 50, was pronounced dead June 25, just hours after he was found not breathing at his rented Holmby Hills mansion. The "King of Pop" was staying at the mansion while rehearsing in the Southland for a planned series of of 50 concerts at London's O2 Arena.
Proceeds of the film are expected to benefit the Michael Jackson Family Trust.
Copyright Archive Sources