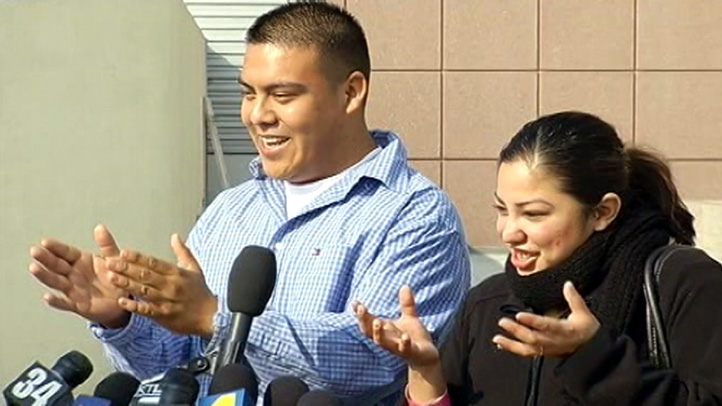 A baby girl who weighed only 9.5 ounces -- about the same weight as a soda can -- when she was born in August left the Los Angeles County-USC Medical Center Neonatal Intensive Care Unit Friday after quadrupling in size.

Baby Melinda had been at the medical center since she arrived Aug. 30, about 16 weeks early. Global Birth Registry figures show that Melinda is the third-smallest baby ever born.

"I'm just happy I'm going to be able to take her home," said mother Haydee Ibarra. "To be able to spend the whole night with her, it feels great."

Melinda -- believed to be the second-smallest baby ever born in the United States -- is drinking from a tiny bottle after spending weeks in an incubator.

It is too early to determine how she will develop, but Dr. Rangasamy Ramanathan said there is reason to be "cautiously optimistic," but many important developmental milestones are ahead. Babies born that prematurely can develop problems such as blindness, deafness or cerebral palsy.
"I want to warn you, this doesn't happen every day," said Ramanathan. "In my 30 years here, this is the first time we have been able to discharge a baby that weighed less than 300 grams."

A problem with the placenta developed during the pregnancy, and baby Melinda was unable to receive proper nutrition, blood and oxygen. The parents encouraged doctors to do what they could, and Melinda was delivered by cesarean section at 24 weeks.
The parents said members of the family have volunteered to help care for Melinda. The only piece of medical equipment she will require in her room is an oxygen tank, Ibarra said.
"I'm looking forward to going out for picnics, spoiling her like any other dad," said father Yovani Guido, of Granada Hills, when the family spoke with reporters on Dec. 15, his daughter's scheduled due date.
Follow NBCLA for the latest LA news, events and entertainment: Twitter: @NBCLA // Facebook: NBCLA