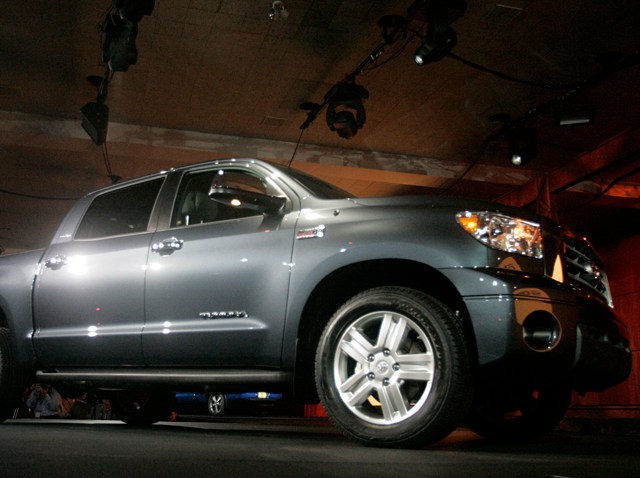 Toyota directed auto dealers Tuesday to halt sales of eight vehicle models while the company works to correct the possibility of sticking accelerator pedals.
The company, whose North American headquarters are in Torrance, announced a recall of 2.3 million vehicles last week. About 1.7 million of those vehicles were already included in a recall announced last year of 4.2 million Toyota and Lexus vehicles to reduce the risk of pedal entrapment by incorrect or out-of-place accessory floor mats.
Today's move by the automaker will halt sales of the following models:
-- 2009-10 RAV4;
-- 2009-10 Corolla;
-- 2009-10 Matrix;
-- 2005-10 Avalon;
-- certain 2007-10 Camry;
-- 2010 Highlander;
-- 2007-10 Tundra; and
-- 2008-10 Sequoia.
Local
Local news from across Southern California
All of those models were included in the recall announced last week.
``Helping ensure the safety of our customers and restoring confidence in Toyota are very important to our company,'' said Group Vice President and Toyota Division General Manager Bob Carter. ``This action is necessary until a remedy is finalized. We're making every effort to address this situation for our customers as quickly as possible.''
According to today's announcement, the automaker has determined ``there is a possibility that certain accelerator pedal mechanisms may, in rare instances, mechanically stick in a partially depressed position or return slowly to the idle position.''
In addition to suspending sales of the affected models, Toyota announced that it was halting production of selected models beginning Monday at the following plants:
-- Toyota Motor Manufacturing, Canada (Corolla, Matrix, and RAV4);
-- Toyota Motor Manufacturing, Indiana (Sequoia and Highlander);
-- Toyota Motor Manufacturing, Kentucky - Line 1 (Camry and Avalon);
-- Subaru of Indiana Automotive Inc. (Camry); and
-- Toyota Motor Manufacturing, Texas (Tundra).
The series of recalls began as a result of the high-speed crash of a 2009 Lexus ES350 near San Diego in August, killing a California Highway Patrol officer and three members of his family. The car struck a sport utility vehicle while traveling at speeds of 120 miles per hour, tumbled off an embankment and burst into flames.
A family member in the Lexus called 911 before the crash, saying the accelerator was stuck and the driver couldn't stop the car.
Toyota has released information on their website regarding the recall.

Copyright CNS - City News Service