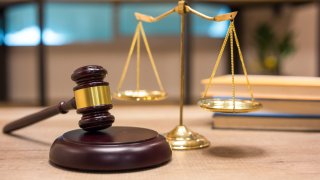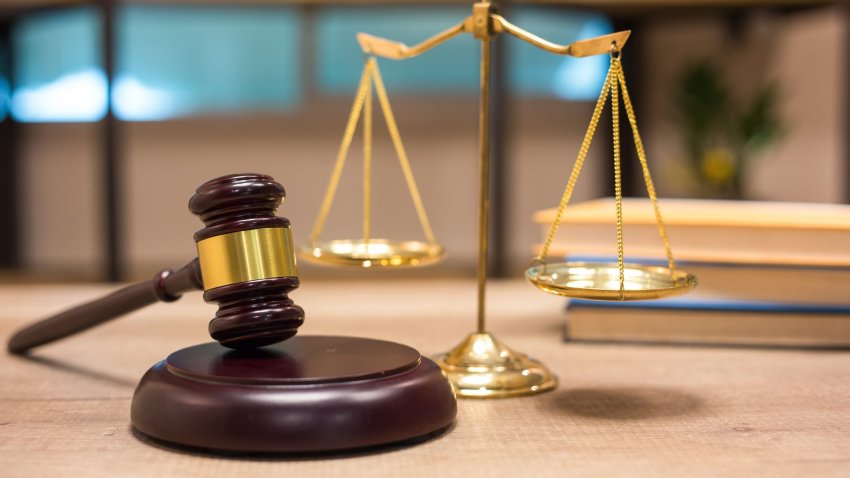 As trash talking between two men escalated in a Brea apartment complex, a 21-year-old man "brought a knife to a fist fight'' and intended to kill another man, a prosecutor told jurors today while the defendant's attorney said his client acted in self-defense.
Austin Joseph Ambriz is charged with murder with a sentencing enhancement for the personal use of a deadly weapon. He is accused of killing 21-year-old Luke Lindsey April 29, 2018, at the Birchwood Village apartment complex at 1717 E. Birch St.
In September, Ambriz and Robert Anthony Mejia, 22, who was also at the scene of the killing, were charged in connection with an attempted murder of a man in Orange on March 24, 2018, but jurors in the murder trial will not hear evidence related to that alleged attack.
Lindsey "never saw it coming," said Senior Deputy District Attorney Whitney Bokosky.
"Austin Ambriz brought a knife to a fist fight and the very first chance he had he plunged a knife into the abdomen of Lindsey so far that it hits his liver, small intestine and main artery that carries blood from his heart to the rest of the areas of the body,'' Bokosky said.
"It went so deep it cut Lindsey's vertebrae. After that, he pulled the knife out and ran away, leaving Luke to bleed out in the parking lot at 4:30 a.m."
Lindsey and his girlfriend, Rebecca Stewart, were staying overnight with a friend at the apartment complex that night, Bokosky said. The two, who were homeless at the time, were living out of a friend's car, the prosecutor said.
Lindsey's "very good" friend, Jason Burger, showed up at the apartment complex and bumped into Lindsey and Stewart, who were getting food out of a vending machine, Bokosky said.
Burger asked again if he could sleep at their friend's apartment and they said they weren't allowed to have anyone else stay there, Bokosky said.
Burger asked for a ride home, but Stewart said she did not have enough gas and they were ready to go to bed, Bokosky said.
So Burger called the friends who dropped him off and asked them to give him a ride home, Bokosky said. While awaiting his ride, the three smoked marijuana in the car Stewart was using, Bokosky said.
When Burger's ride home arrived, words were exchanged between Ambriz and Lindsey with Ambriz saying, "You have a problem with me?'' Bokosky said.
Ambriz got out of the car and approached Lindsey with the knife before the two "square up to fist fight,'' Bokosky said.
"This is not a fist fight that went wrong," Bokosky said. "This is a cheap shot. It was a sneak attack. Luke squared up to fight and Ambriz stabbed him in the stomach."
Burger, who videotaped the conflict with his phone, said Ambriz, while they were driving away, erased it, Bokosky said.
A police officer who saw the car, with Mejia behind the wheel and Ambriz and Burger in it, entering the apartment building while flashing through a red light and then saw the car speeding out of the complex decided to follow the vehicle, Bokosky said.
Police pulled over the car with the defendant a short distance from the complex, she added.
Ambriz's attorney, Jeffrey LeBeau, told jurors, "This is a case about self-defense. This is a case about Austin Ambriz defending himself against someone who was bigger, taller, stronger -- someone who had methamphetamine, alcohol and marijuana in his system that night, who repeatedly attacked Austin Ambriz."
LeBeau alleged that Burger intended to videotape a fight between his client and the victim and "egged" on the conflict.
LeBeau said Burger went over to the apartment complex because Lindsey texted him, "Come coke me out for a (Xanax)."
Mejia drove Burger to the Birchwood Village complex and dropped him off, LeBeau said. Mejia, Burger and Ambriz were partying with friends near the parking lot of a health club that night, LeBeau said.
Burger was initially "irritated'' that he couldn't sleep overnight at the apartment of Lindsey's and Stewart's friend, but "they bury the hatchet'' and Burger turned his attention to getting a ride home, LeBeau said.
While waiting, Burger told Lindsey that Ambriz had been "jumping around saying he could kick your ass," LeBeau said.
Burger told investigators that Lindsey "took it well, that's a bunch of B.S., but I guess he's a cool guy," LeBeau said.
When Mejia and Ambriz arrived and parked about six parking stalls away, Burger got out with Lindsey in tow and approached Mejia's car, LeBeau said.
Lindsey allegedly said, "You have a problem with me, you want to get down," prompting Ambriz to say, "You have a problem with  me?" LeBeau said,
adding then Lindsey "starts cussing at (Ambriz)."
Ambriz did not get out of the car until Lindsey attempted to attack the defendant while in the vehicle, LeBeau said.
Burger, "who's filming this whole time has his camera out and is filming it so he can post a video of Lindsey beating Austin Ambriz's ass," LeBeau said.
"It appeared to (Burger) that Austin Ambriz was afraid of Luke Lindsey and that's probably why he pulled the knife out in front of him to stop the fight,'' LeBeau said. "But Luke Lindsey apparently never saw the knife when he charged (forward)."
After Lindsey was wounded, Ambriz "did not try to attack him again and did not try to inflict any injury on him at this point,'' LeBeau said.
The defense attorney said Burger, Mejia and Ambriz were "in a state of shock and panic'' as they left the scene and did not realize how serious the victim's wound was. He said the video on Burger's phone was accidentally erased as Burger was handing it to Ambriz.
Copyright CNS - City News Service