Two people were injured in a fire that caused a roof collapse and burned about 40 units early Wednesday at a two-story apartment building in Tustin, and police said a 59-year-old man was facing arson charges in connection with the fire.
Patrick Andrew Ceniceros, 59, of Tustin, was arrested on suspicion of arson Wednesday night, Tustin police said. Police confirmed that he lived in the complex that caught fire.
The fire, located on the 15000 block of Williams Street at Chatham Village, was reported around 3 a.m. Firefighters were battling the blaze on both floors, Tony Bommarito, of the Orange County Fire Authority, said.
The roof collapsed within 30 minutes, firefighters said. Video from NewsChopper4 later Wednesday morning showed the burned out shell of the apartment.
"When I heard the knock on the door by the officer, I heard him say the fire was all in the attic," said resident Jorge Duarte. "As you can see the roof is all gone off the whole thing."
Police alerted some residents to the early morning fire as it quickly spread through the complex.
"The cops were banging on our door, saying, 'Get out, there's a fire,'" said 13-year-old Angelina Gonazalez. "I got my dogs, and I ran out."
Details about the injured victims were not immediately available.
Neighbor Bruce Calderon said he was trying to call a co-worker who lives in the building. By 5:30 a.m., he was still unable to contact him.
"He didn't pick up," Calderon said. "I'm still wondering about what happened to him."
At least 120 firefighters were on scene, the Orange County Fire Authority said in another tweet.
Displaced residents were asked to report to the Red Cross at 1952 E. McFadden Ave in Santa Ana to possibly be relocated.
A cause was not immediately determined, but Tustin police arrested a man Wednesday night in connection with the fire.
A family displaced in the blaze was very broken up, wondering if the family bird had survived. The fire captain went back into complex to assist, and was able to help with an emotional reunion.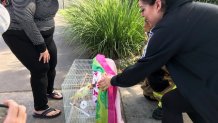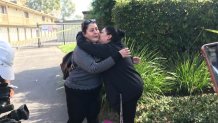 Another animal, a guinea pig, was also carried to safety by a firefighter.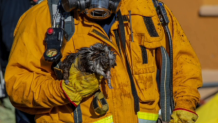 Hetty Chang contributed to this report.