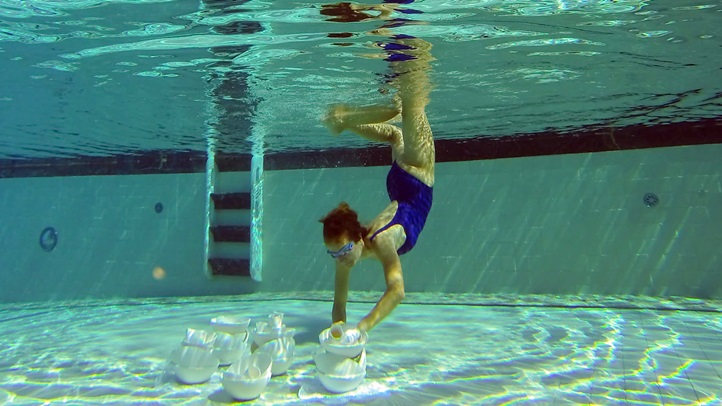 The weather is turning a bit toastier 'round Southern California, as it is wont to do in the middle of October, even as many people are readying to move onto true fall and sweather weather.
And the question so many of us ask on an unexpectedly hot day is this: Do we find a pool somewhere to cool down or do we seek out a museum that possesses plum A/C, the better to enjoy artworks in a pleasantly chilly space?
If you make for the Annenberg Community Beach House from Friday, Oct. 14 through Sunday, Oct. 16, you won't need to make that challenging choice: You can take a dip in a swimming pool while simultaneously enjoying a bevy of interesting pieces by 18 LA-based artists.
Local
Local news from across Southern California
We speak of "Snorkel Dreams: A Machine Project Guide to Art Underwater," an imaginative, H2O-based collaboration between the historic Santa Monica landmark and Machine Project, the Echo Park-headquartered artist collective behind several surreal happenings (including a recent inquiry into what a UFO smells like).
"Snorkel Dreams" will feature "ceramics, paintings, underwater video, ice sculpture, photography, latex sea-horse, and a sunken mannequin," lest you were curious as to the impressive variety of pieces that will be placed at the bottom of the well-known pool.
"The show is free," says Machine Project, but due to limited space in the pool a time and day should be (read: absolutely definitely must be) reserved in advance. Really, do not dally if it piques your pool-loving interest.
And unlike most museum and gallery shows, you'll probably want to arrive with your swimsuit for this one, at least if you want to get closer to the artworks. As in, view them from a close-up vantage point underwater.
You can admire the artworks from above, of course, while standing or sitting outside of the pool. This is also a fine and whimsical way to experience the show if you do not swim or prefer to stay upon terra firma or you can't find your trunks, the one you wore to the beach only last August, darn it.
Snorkels and goggles are also recommended, but if you forget yours, or need to borrow, there shall be a few at the pool's edge (also, yes, remember a towel).
Artists include Jessica Cowley, Paul Pescador, and a host of convention-ignoring big thinkers who've embraced the idea of this most unusual, and highly soggy, of galleries.
True, some museums do have skylights, the better to illuminate rare masterworks, but "Snorkel Dreams" will have a lot of sun, with no skylight to diffuse its beams, so arrive not only with your wonder and curiosity in tow but with a bottle of sunscreen, too.
Copyright FREEL - NBC Local Media