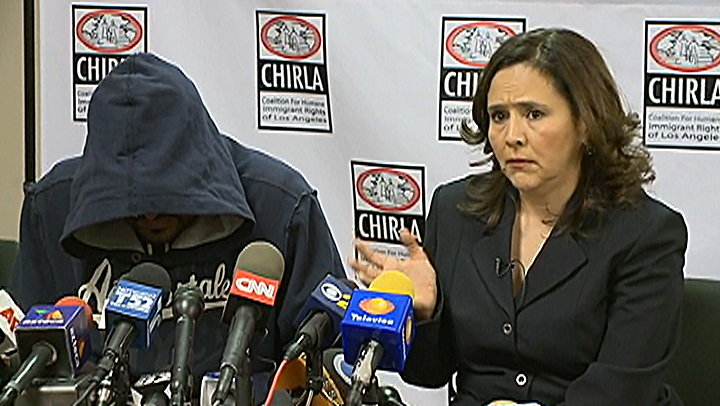 An attorney representing undocumented families of children allegedly abused by a Miramonte Elementary School teacher sought an assurance on Thursday from LA County Sheriff Lee Baca that the families will not be turned over to immigration authorities.
Full Coverage | About Miramonte | Timeline of Events
The news came during a press conference at the offices of the Coalition for Humane Immigrant Rights of Los Angeles where lawyers announced they are filing complaints against the Los Angeles Unified School District in the Miramonte School scandal.
Local
Local news from across Southern California
"Most of these families represent a lot of families out there who would not speak to authorities because of their immigration status," said attorney Jessica Dominguez, who is representing eight Miramonte families. "How sad is that, that families are not speaking up because they're afraid of getting deported?"
A father whose daughter was allegedly abused by former teacher Mark Berndt spoke to the press, but said he would not speak to authorities because he's afraid of being deported.
He spoke through a Spanish interpreter, gave only his first name, Raymundo, and hid his face under a hoodie.
He said he had panic attacks that sent him to the hospital emergency room. He challenges other parents to come forward.
He said he knows two families whose children have allegedly been victimized but who won't come forward because they're fearful they could be deported.
Miramonte sits in a largely Latino district in L.A.
Sheriff's Department spokesman Steve Whitmore said Baca is not interested in a family's status. He mailed letters on Monday to Miramonte parents assuring them of that.
"He's made it crystal clear that he is not interested in whether they are documented or not," Whitmore said. "It is not relevant to him in this investigation."
Earlier Thursday, students, accompanied by parents, returned to classrooms at Miramonte after a two-day shutdown and the removal of the school's entire staff.
The unprecedented actions were taken after the arrests of two teachers in connection with committing lewd acts involving children at the school.
Berndt, 61, of Torrance, who had been a Miramonte teacher for 30 years, faces two dozen counts of sexually molesting 23 boys and girls between 2005 and 2010, the District Attorney's Office said.
Berndt, a third grade teacher, was removed from the school campus in 2010 when the allegations arose.
He retired before his termination by the district was finalized.
Martin Bernard Springer, 49, faces three felony counts of lewd acts on a child. He was removed from the school and terminated.
LAUSD Superintendent John Deasy called for an investigation into whether the school maintained a "culture of silence" that could have allowed the teachers to carry out their alleged crimes.
Two lawyers earlier this week announced they were filing court complaints against the school district.
Follow NBCLA for the latest LA news, events and entertainment: Twitter: @NBCLA // Facebook: NBCLA