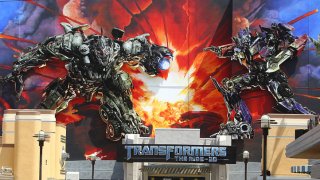 A group of 11 people were stuck on Universal Studios' Transformers ride after a power outage Thursday afternoon, according to the LA County Fire Department.
The incident was reported at approximately 3:45 p.m. when 11 people were stuck on the Transformers: The Ride 3D indoor virtual ride.
"As a result of a power interruption from So Cal Edison, we experienced a brief power dip which resulted in exiting guests from some attractions. Power has been fully restored and we're working to get a few remaining attractions back online. The theme park remains open," a spokesperson for Universal Studios Hollywood said.
No injuries were reported and everyone stuck on the ride were able to get off safely.
The scene was clear by 5 p.m.
The ride based on the movie franchise is motion simulation with a ride vehicle that moves along a track. 3-D graphics appear in front of guests, simulating a battle among Transformers.