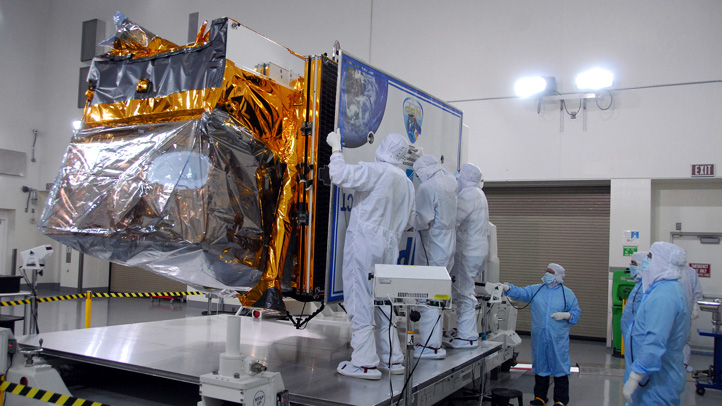 NASA will have another eye on global climate next week when it launches a new Earth-observing satellite from Vandenberg Air Force Base.

The launch of the National Polar-Orbiting Operational Environmental Satellite System Preparatory Project mission -- or, the mercifully short NPP -- is scheduled for Oct. 28. It will provide long-term global climate information and also transmit data that can be used for short-term weather forecasts.

"(The satellite) will help us improve our computer models that predict future environmental conditions," said Jim Gleason, NPP project scientist. "Better predictions will let us make better decisions, whether it is as simple as taking an umbrella to work today or as complex as responding to a changing climate."

The information also might help first responders prepare for natural disasters, such as wildfires. National Oceanic and Atmospheric Administration officials will use NPP-supplied information in their weather models, and the satellite also will allow researchers to better observe global fires.

"With the many billion dollar weather disasters in 2011, NPP data is critical for accurate weather forecasts into the future," said Louis W. Uccellini, director of NOAA-National Centers for Environmental Prediction.

But first, the satellite needs a ride into space. A Delta II rocket will carry NPP from Vandenberg Air ForceBase into orbit more than 500 miles above Earth's surface.

The craft, about the size of a Dodge Caravan, will orbit Earth about 14 times per day, transmitting data once per orbit. The satellite is expected to remain in operation for about five years.
The launch window is 2:48 to 2:57 a.m., Oct. 28. The launch was initially scheduled for Oct. 27.
Viewing a Vandenberg Launch
The facility has a public viewing site. Click here for details.
Find a viewing area that's as high as possible. You'll want to avoid low clouds and air pollution.
Look for an unobstructed horizon.
Get away from city lights for night launches.
Follow NBCLA for the latest LA news, events and entertainment: Twitter: @NBCLA // Facebook: NBCLA