A Marine who learned several World War II medals were stolen from a fellow veteran's home brought the 88-year-old vet a surprise on Friday: a new set of medals to replace his originals.
The medals were the only item taken from Clyde Kellogg's home in the 1000 block of Prospect Place in Vista sometime between Nov. 27 and Dec. 15, according to San Diego County sheriff's detectives.
The medals have no real monetary value, detectives said, but they do hold great sentimental value to the owner, a World War II Marine veteran who earned them while fighting in the war.

Kellogg was wounded in combat and spent almost an entire year in the hospital recovering from his injuries.

Kellogg told NBC 7 San Diego that his medals, including a Bronze Star and a Purple Heart, mean everything to him. They remind him of his days as a soldier – and the friends he lost along the way.

Kellogg joined the Marines at age 17 and served in World War II.

He said that in his heart, he shares his Bronze Star medal of valor with a fellow Marine who was right there with him when a Japanese tank rolled over their foxhole in Guadacanal.

"My buddy was right there with me and I held him in my arms while he died. It ticked me off," recalled Kellogg.

He later received a Purple Heart. Kellogg said it took him a year to recover from his wounds sustained in combat, including a shot through the throat that left him with only half a vocal cord.

For more than 60 years, Kellogg has cherished his military medals. Now, they're gone and the former Marine is fired up about it.

"I was ready to fight [when they were stolen]. I was madder than hell," said Kellogg. "Anyone who would take those didn't earn them. What the hell are they going to do with them?"

Kellogg said the medals were taken straight from his wall. They were proudly displayed for years in a space right above his military dog tags.
Jack Harkins from the United Veterans Council visited Kellogg on Friday in Vista with a new set of medals to replace Kellogg's stolen ones.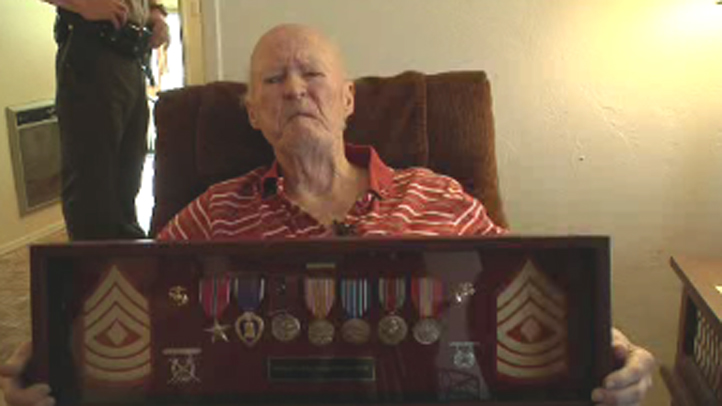 Kellogg said he couldn't express how thankful he was for Harkins' kind gesture. He said the replacement medals will fill a void he has felt since his medals were stolen.
"You don't know how much I appreciate this," Kellogg said. "I feel elated someone would step up and do something for somebody – replacing my medals."
Harkins said he read an article about Kellogg's medals being stolen and felt he had to do something to help because, as a Marine, he knows what it means to earn medals of valor.
"The honor that Americans have when their nation presents them with honor for their service is something that runs deep. That's been true for all generations," said Harkins.
Local
Get Los Angeles's latest local news on crime, entertainment, weather, schools, COVID, cost of living and more. Here's your go-to source for today's LA news.
In addition to the replacement medals, Harkins gave Kellogg a personal Marine pin to wear for his service engraved with the words, "Once a Marine, Always a Marine."
"Jack, you don't know what this means to me," Kellogg told Harkins at his home.
Kellogg said he will be keeping his new medals and pin at home, very much guarded.
Meanwhile, investigators will continue to search for Kellogg's original prized possessions.
San Diego County sheriff's detectives are still searching for the person or people responsible for stealing Kellogg's medals.
Anyone with information is asked to contact sheriff's detective Lisa Jenkins at (760) 940-4907 or the Crime Stoppers tip line at (888) 580-8477.