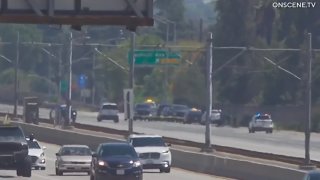 The victim killed in a car-to-car shooting Saturday morning on a Southern California freeway was identified as a 35-year-old Monrovia woman.
Bertha Hernandez died at the scene on the 210 Freeway near the Baldwin Avenue exit ramp. She was shot at about 9 a.m. Saturday as she traveled east on the freeway in the Arcadia area.
Witnesses called to report a single-vehicle crash involving her black Mercedes-Benz. The vehicle crashed into the right shoulder sound wall.
Hernandez, the only person in the vehicle, suffered at least one gunshot wound, investigators said.
No arrests were reported. A detailed description of the shooter's vehicle was not available.
The CHP asked anyone with information about the crime call Officer Carlos Martinez at 323-353-8381.