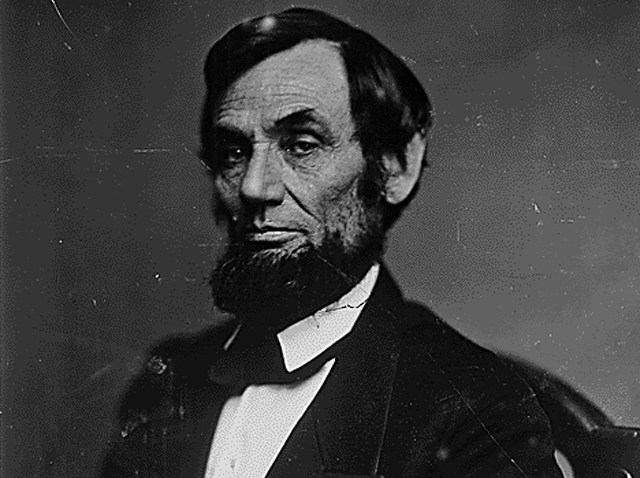 If Abe Lincoln were alive today, he'd be the world's oldest man at 200. But more importantly, he'd also be able to settle a question regarding Disneyland's Great Moments with Mr. Lincoln exhibit.
Great Moments has reopened after a nearly five-year hiatus, and with it comes a Great Emancipator with a fully electronic head -- a first for human Disney audio-animatronics figures, whose heads are traditionally hydraulically operated. New Lincoln can grimace, form an O and purse his lips.
But some historians say Real Lincoln might frown if he heard Electronic Lincoln's voice.

"I'm listening to Royal Dano again," Lincoln expert Harold Holzer told the LA Times, referring to the character actor who voiced Lincoln. "You know, I am an absolutely committed Sam Waterston man. ... I will take his readings of Lincoln over anyone's on Earth.

"I do think the voice is important -- to get the accent right. We've been all over the lot on this. Is it Raymond Massey? Is it Richard Boone? Gregrory Peck played Lincoln in a mini series ("The Blue and The Gray")."

Disney remastered Dano's original recordings for the new generation of the 16th President. Those recordings have been used for the last 40 years, and some experts say it's time for a change.

It's not easy to voice Abe Lincoln -- the fact that nobody alive today has ever heard him speak is one problem. There also are remarkably few (none) television and radio interviews with the former president.
Local
Local news from across Southern California
So people end up making assumptions based on things like regional dialects.

"The very best of the Lincoln impersonators will speak in that dialect," Ronald C. White Jr., historian and author of "A. Lincoln: A Biography," told the Times. "They'll speak as if they're from rural Indiana, rural Kentucky."

Other historians come to Disney's defense. People go to Disneyland for Space Mountain, Mickey Mouse, the Matterhorn and possibly "Honey, I Shrunk the Audience."

They're not going for a history lesson.

The exhibit itself is a piece of theme park history. Hydraulic Lincoln first spoke to audiences in 1964. The exhibit was created for the New York World's Fair, where it appeared in the Illinois Pavilion.

It opened at Disneyland's Main Street Opera House on July 18, 1965.

The attraction was reprogrammed in 1984 with the newest audio-animatronics available at the time. An entirely new Great Moments with Mr. Lincoln opened in July 2001, with spectators wearing earphones to hear a dramatic Civil War presentation in state-of-the-art audio, followed by the figure of Lincoln delivering the Gettysburg Address.

The new exhibit features a program about Lincoln and the Civil War featuring digitally enhanced pictures and sound, along with new material, including specially commissioned artwork by "Pocahontas" animator John Pomeroy.

The Lincoln figure then takes the stage to deliver a speech composed of highlights chosen by Walt Disney from speeches Lincoln made. The narration by Paul Frees combines elements of past versions with passages not heard before.

When the 15-minute show concludes, guests exit through a gallery depicting notable Americans who have followed in Lincoln's footsteps and continue to inspire others.