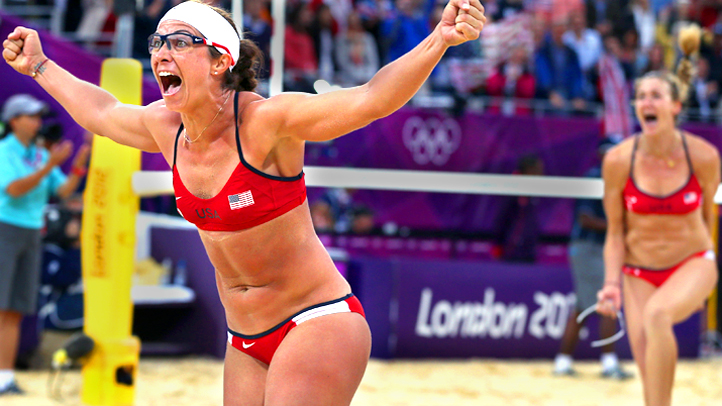 SoCal's female Olympians have the chance to take home a host of medals Wednesday, while the men will be playing to stay in medal contention.
The beach volleyball duo of Misty May-Treanor and Kerri Walsh Jennings will take on April Ross and Jennifer Kessy in an all-SoCal final. Local track stars Lashinda Demus, Carmelita Jeter and Allyson Felix will look to capture gold in their respective events.
Meanwhile Kobe Bryant and company will take on Australia in the men's basketball quarterfinals.
Local
Local news from across Southern California
Men's Volleyball: United States v. Italy, Quarterfinal
After winning its group in preliminary play, the U.S. team takes on an Italian squad that has already dropped two matches to Bulgaria and Poland. With 11 players from SoCal on the roster, the U.S. is just one win away from being guaranteed to play for at least bronze.
Watch Live at 8 a.m.
Men's Water Polo: United States v. Croatia, Quarterfinal
The Croatians dominated their pool, winning all five of their matches. But in 2008 the SoCal-laden U.S. team defeated Croatia on its way to a silver medal. Ten players from that team are still on the U.S. roster.
Watch Live at 12 p.m.
Track and Field: Women's 400m Hurdles, Finals
After battling with fatigue and postpartum depression, Palmdale's Lashinda Demus is back in the 400m hurdles finals. The four-time U.S. Outdoor champion will be joined in the field by fellow Americans Georganne Moline and T'erea Brown.
Watch Live at 12:45 p.m.
Track and Field: Women's 200m, Finals
Gardena's Carmelita Jeter will be looking to add to her medal haul and Santa Clarita's Allyson Felix will be seeking her first of the Games. Their competition will be fierce as 400m gold medalist Sanya Richards Ross, 100m gold medalist Shelly-Ann Fraser-Pryce and 100m bronze medalist Veronica Campbell-Brown will be taking to the starting blocks as well.
Watch Live at 1p.m.
Women's Beach Volleyball: May-Treanor/Walsh Jennings v. Kessy/Ross, Finals
No matter what happens in this match, two local products will get gold medals. Misty May-Treanor and Kerri Walsh Jennings will be seeking their third consecutive gold medals, while Orange County's Jen Kessy and April Ross will be going for their first.
Watch Live at 1 p.m.
Men's Basketball: United States v. Australia, Quarterfinals
After going undefeated in pool play, the U.S. squad will look to continue its dominance against Patty Mills and Australia. The U.S. is coming off a 126-97 win against Argentina behind 28 points from Kevin Durant and 17 points from Clippers point guard Chris Paul.
Watch Live at 2:15 p.m.
Follow NBCLA for the latest LA news, events and entertainment: iPhone/iPad App | Facebook | Twitter | Google+ | Instagram | RSS | Text Alerts | Email Alerts