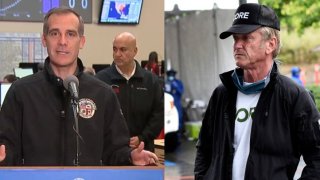 Los Angeles Mayor Eric Garcetti was set to provide his daily update on the state of coronavirus in the city along with actor Sean Penn, founder of Community Organized Relief Effort (CORE) on Thursday.
Fire Chief Ralph Terrazas and Dr. Cynthia Davis of Charles Drew University were also set to join them in the 5:15 p.m. news conference.
Sean Penn's disaster relief organization CORE has already been working with the city to get free drive-thru testing sites up and running. CORE helped rebuild Haiti after the 2010 earthquake.
Need to find a testing site? Here's a map.
Garcetti and the speakers held the news conference at Crenshaw Christian Center, one of the testing sites.
Garcetti also urged residents to complete their Census forms, saying the completion rate was only 40% in the city, well below the roughly 50% statewide rate.
Local
Local news from across Southern California
Penn spoke, saying he had never seen such holistic leadership like between Los Angeles Fire Department and the mayor, and hopes it will be a model for testing sites across the nation.
The news conference came as the Trump administration announced a tentative reopening plan for the nation, saying some states would be able to reopen sooner than others.
As part of the plan, the guidelines say states or regions should meet certain criteria before moving to a phased opening. For example, there needs to be a downward trajectory of documented COVID-19 cases within a 14-day period and a robust testing program in place for at-risk health care workers.
"You're going to call your own shots," President Trump told governors in a call.