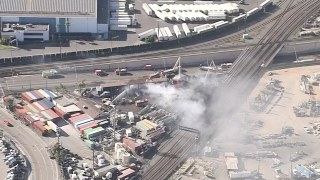 A man was taken into custody in connection with a fire at a shipping container yard in Wilmington Wednesday. The fire sent thick black smoke into the air as several reports of loud popping sounds came in Wednesday afternoon.
The fire was reported at 1420 N. Alameda St. around 3 p.m., LAFD officials said. It appeared that tires and other materials were on fire under a metal covering.
The railway was closed through the Alameda Corridor, officials said.
The LAPD was also on scene in addition to the LAFD hazardous materials team.
Local
Local news from across Southern California
LAFD's quick action extinguished the flames by 3:40 p.m.
No injuries were reported and no structures were damaged in the fire, officials said. LAFD hazmat teams determined the loud sounds reported were tires exploding rather than a more dangerous or toxic substance.
Los Angeles Police Department Harbor Division officers later took a man into custody in connection with the fire. His name and the charges he was facing, if any, were not immediately released.
The cause of the fire was under investigation.