At least six homes were destroyed by a fast-moving wildfire in the San Jacinto Mountains that raged through 9,000 acres of dry, rugged terrain Tuesday, prompting mandatory evacuations.
Some 2,241 firefighters and safety personnel were battling the Mountain Fire, which remained 10 percent contained as of about 11 p.m., according to an online fire incident report. Camp Ronald McDonald, a charity-funded camp for children with cancer, was also evacuated, according to the report.
The report noted the growth potential of the blaze was "extreme" on the steep slopes covered in chaparral and timber.
Heavy smoke had spread into the Coachella Valley, tweeted the U.S. Forest Service, which manages much of the area.
Local
Local news from across Southern California
"With the heavy fuels we've got and the temperatures we're experiencing, it's making it a very aggressive, hot fire right now," Cal Fire spokesman Scott Visyak told NBC4.
In the Bonita Vista area, the fire destroyed six homes, according to the report on InciWeb. At Pine Springs Ranch summer camp and retreat, one commercial building, a workshop, garage, and cabin were destroyed. Eleven outbuildings and several cars were also destroyed by the fire.
Investigators were assessing the loss, the Forest Service said.
RELATED: Mountain Fire Photos | Fierce Fire Season Predicted for SoCal
Visyak said he had been into the area where homes have burned, bringing with him a local resident.
"There's a disaster area in there. It's devastating. There's several homes lost, there's several homes standing. The fire had just gone through there very aggressively," Visyak said.
A night-flying helicopter and Air Attack aircraft worked overnight on the fire, which had broken out at 1:43 p.m. Monday on private property off State Highway 243. The ignition point is a few miles south of the resort town of Idyllwild in a community called Mountain Center (map).
Flames were spreading east over the mountains through vegetation that was highly flammable due to a dry winter. Just after noon, Visyak said the fire was spreading into Palm Canyon and Andreas Canyon.
Norm Chaffin, an area resident who was evacuated, told NBC4 Monday night that a neighbor had seen a nearby home in flames.
"We have no idea what's going to be there," Chaffin said.
Mandatory evacuations remained in effect for Fleming Ranch, Andreas Canyon Club, Bonita Vista, Pine Springs Ranch, the Living Free Animal Sanctuary and the Zen Mountain Center, according to the online incident report.
Gusty westerly winds are expected to sweep through the area Tuesday afternoon, bringing with them the potential for unhealthy air quality, according to the South Coast Air Quality Management District.
Smoke advisories were issued Tuesday morning for portions of Hemet/San Jacinto Valley, Banning Pass area, and the Coachella Valley, AQMD said. Air quality in those communities is most likely to reach the unhealthy range, depending on fire and weather conditions.
Anyone who can see or smell smoke from the Mountain Fire is urged to avoid unnecessary outdoor activities or indoor exertion. People with respiratory or heart disease, the elderly and children are being told to stay inside.
The area — the San Bernardino National Forest and adjacent Mount San Jacinto State Park — is a popular destination for hikers, rock climbers and campers. San Jacinto Peak, the second-highest point in Southern California, is about eight miles north-northeast of where the fire began.
The Pacific Crest Trail was closed from State Highway 74 to Saddle Junction, as were the South Ridge Trail, Carumba Trail, Spitler Peak Trail, Fobes Trail, and Cedar Springs, according to an online fire incident report.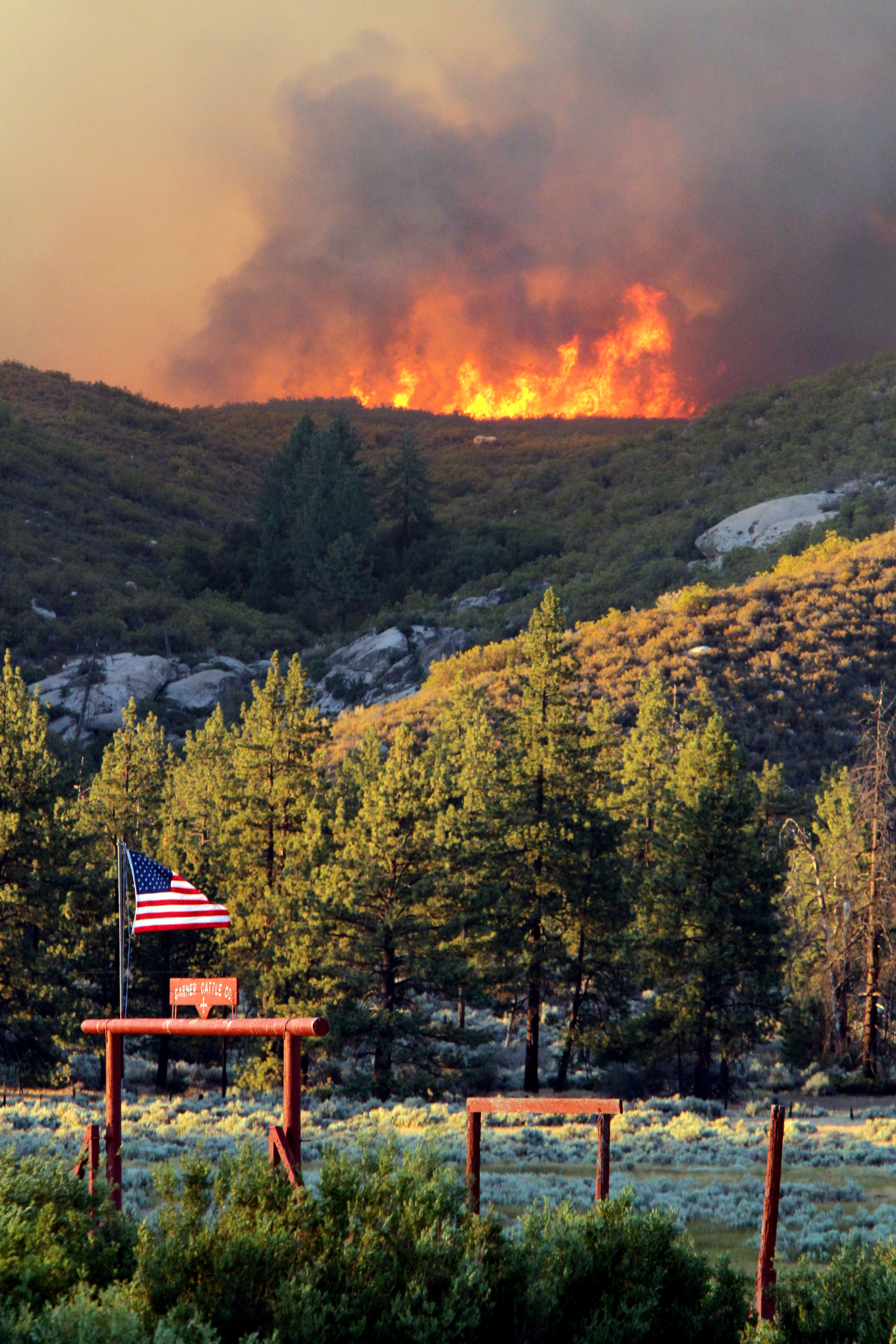 Those with day-use or overnight permits for the wilderness area were advised to call the San Jacinto Ranger Station at 909-382-2921.
Highway 243 was closed between State Highway 74 and Saunders Meadows Drive.

Evacuation centers were set up at the following locations:
Hemet High School, 41701 E. Stetson Ave, Hemet
Hamilton High School, 57430 Mitchell Road, Anza
Large and Small Animals can be taken to Lake Hemet Campground in Garner Valley
Small animals can be brought to the San Jacinto Animal Shelter, 581 S. Grand Ave, San Jacinto.
Photo credit: AP/The Desert Sun.
More Southern California Stories: