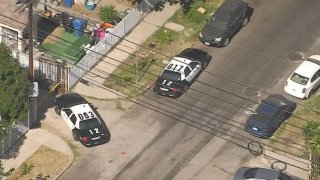 A woman in her 20s and 2-year-old child were shot Friday afternoon in the Leimert Park area.
Police responded at about 3 p.m. to the 1700 block of West 53rd Street in the neighborhood southwest of downtown Los Angeles.
Witnesses said three men approached the woman and child, whom LAPD said were sitting in a car, and opened fire.
Authorities said the woman, a 25-year-old, and the 2-year-old child suffered non-life threatening injuries.
It wasn't clear why they were targeted.
It also wasn't known if the woman was the toddler's mother.