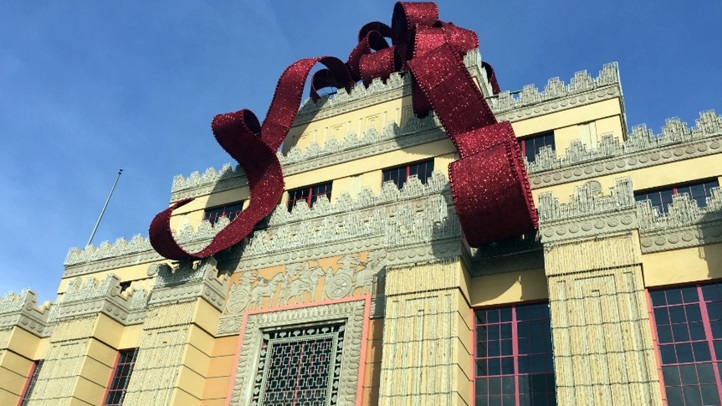 The holiday season has an amazing knack for popping up in cities weeks ahead of time while wearing a variety of different glittery guises.
An early snowfall might indicate to a town that Christmas is on the wind, while a pre-Thanksgiving Santa sighting, at a mall, tells another place to ready the tree and gift wrap.
Here in Los Angeles, though, one of our first indicators comes in the form of something sparkly, something well above our heads, something that's near our cars (of course), and something that is stupendously mega-sized.
Local
Local news from across Southern California
It's the "World's Largest Bow," an annual sight at the Citadel Outlets, where it sits grandly atop the 5 Freeway-close building throughout the holiday season.
That grand run began in 2016 on Tuesday, Oct. 11, which means this: If you're driving the stretch of freeway south of downtown Los Angeles, you'll likely spy a surprising slice of yuletide decor out your windshield.
But the mega ribbon, which is an impressive 36 feet tall by 21 feet wide, won't be alone in its eye-catching whimsy for long: The "World's Tallest Live-Cut Tree," another staple of the Citadel Outlets, is slated to arrive at the shopping center on Tuesday, Oct. 18.
The fir, which hails from the Shasta-Trinity National Forest, is not quite as see-able from the interstate as the big bow, which tops the center's 5-facing Assyrian wall, but you should be able to detect the tree's tippy-top out your passenger window (and, of course, see it in its full lit-up glory if you walk inside the Citadel Outlets).
You say you can't get enough of the factoids surrounding the World's Largest Bow? Okay, a few more: "Over 4,000 cans of paint and primer and one half-ton glitter were used in its construction." Also, it boasts 18 loops in all, but those loops are rather larger than the loops you'd find on any gift you've ever wrapped, as they measure 10 to 12 feet tall.
The holidays are not here — hold your horses, everyone, and enjoy Halloween— but like that first snowfall elsewhere, or the first mall Santa appearance, the mega decoration atop the historic 5-adjacent building tells Southern Californians that the winter celebrations are well on their way.
Copyright FREEL - NBC Local Media