George Foulsham was sitting in his office the week after UCLA commencement — the campus quiet with students gone — when he first heard the incredible singing voice. He didn't think much of it since the theater school is nearby. But the next day, he heard the voice again with his windows closed. It sounded louder.
"I could tell already that it was a great voice," Foulsham said. "So I thought, I've got to go investigate."
The voice brought him to Bunche Hall, a building next door.
"I walked up one set of stairs and there, sitting on one of the stairs .... was this woman singing," he said. Foulsham creeped up the stairs cautiously trying not to disturb the woman who seemed somewhat oblivious to him, sitting with her headphones in and iPhone in hand. When she finished singing, he asked if he could record her and she agreed.
Foulsham and another man stood watching Amanda Strohecker as she broke into "Bring Him Home" from Les Misérables, sitting on the steps in the stairwell.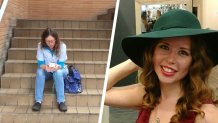 Strohecker is in her fifth year of working as a custodian at UCLA, and works as a gardener one night a week. But the 25-year-old from San Dimas loves to sing, and dreams of being a singer someday.
Local
Get Los Angeles's latest local news on crime, entertainment, weather, schools, COVID, cost of living and more. Here's your go-to source for today's LA news.
"Music has really helped me," she said. "It's kind of like God gave me a gift and I try to give it back by singing."
Strohecker was 4 years old when she and her sister were removed from an abusive home and put into foster care. About half a year later, they went to live with a foster mother, who officially adopted them when Amanda was 8.
"My mom didn't know I could sing until she heard me sing along with the 'Sleeping Beauty' movie," she said.
Other than a year or two of coaching focused on stage presence and stage fright before she turned 20, she has received little instruction. She sang at church, contributed to a family friend's Christmas and lullaby CDs, and sang in concert choir while she took some classes at Citrus College.
She tries to get herself out there with videos online, but mostly she's "just been singing in the stairwell," she said. "I like the acoustics, and … I try not to disturb people."
Singing during breaks, or while cleaning the restrooms when a song comes on that she likes, Strohecker uses a karaoke app on her phone most of the time when she sings. She loves classical music and love songs.
"I've just found that classical music, … my voice fits it, God made it for that," she said.
"Can you imagine that?" Foulsham said. "Being able to follow her around all morning and listen to her clean, and sing."
When Foulsham, the executive director of communications at UCLA Luskin School of Public Affairs, asked to record Strohecker, she said she stared at her phone to concentrate.
"I wanted to sing it well because I've never had someone ask me to record before," she said.
In the video, she sits unfazed as someone steps past her, subtly tapping her feet as she belts out the lyrics on the steps.
[NATL-LA]Special Needs Corgis Ready for Their Closeups
When Foulsham finished recording, he told her, "You really need to do something with that voice, you have a gift."
"It made me feel good about myself because sometimes I kind of doubt if I sing well or not," Strohecker said. "And that is my dream, to become a singer."
Referencing what she experienced during her childhood, Strohecker says her ability to sing makes her feel like,"there's a purpose, that you're not trash, that you're worth something." She believes the same applies for other talented men and women affected by bad homes.
It seems Foulsham saw her passion for music clearly, in a stairwell of all places.
"When I came back to my office and I was processing the video, I could still hear her singing ... and it sounded wonderful," Foulsham said. "Made me sorry I didn't stick around for that one, too."
New Exhibit: 'LA Landmarks: Lost and Almost Lost'