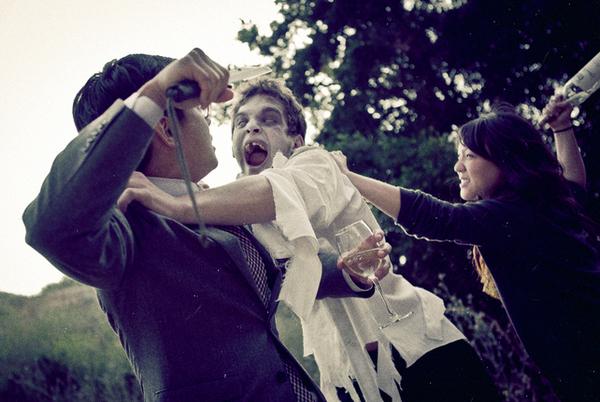 The Internet is a magical place where medical advice is at your fingertips and you can purchase just about anything semi-legal.
And, of course, there are the zombie cameos.
One of The Undead crashed a serene picnic in Santa Clarita, seriously punching up a couple's visual wedding announcements.
Local
Local news from across Southern California
"Ben didn't want to lose his sense of manliness in the engagement photos," said Amanda Rynda, friend of the couple and zombie photographer. "So they went extreme."
Juliana Park and Ben Lee underestimated the privacy of their wedding website and the zombie-themed engagement became an accidental hit on the web.
"We thought it would be hard to find, but someone did," Park said.
The couple wanted their engagement photos to be "kooky and mature, but not tacky," she added.
After brainstorming with colleagues, they decided a quiet zombie appearance was just the ticket to show off their personalities.
"We're really happy and overwhelmed by the huge flow of people giving us such positive feedback," Park said. "But especially for Amanda, who's getting all this attention."
Several blogs and websites have picked up the photos taken by Rynda, who started taking photos less than a year ago.
"I did it as a hobby, something to get me out from behind the desk," she said.
Rynda and Park work together at Disney Animation Studios and kept the photo shoot production in-house, or rather in-field.
The couple took turns transforming friend and coworker Jason Boesch into a pale, tattered zombie in about 45 minutes.
The trio's inboxes have been full since the photos were posted Monday and went viral just a few days ago, but Rynda said they emailed Thursday.
"They were a little nervous that everyone knows their wedding date now," she said. "But they're excited to see (the photos) out there."
So far, only friends have picked up on the couple's viral sensation.
"I don't think (my family knows)," Park said. "My brother would've called me."
As for the zombie friend, Park said he's invited to the wedding but he'll be playing himself.
"We were thinking how funny it would be if he came dressed as the zombie," she said. "But we're also thinking about the older people at the wedding who might be weirded out."
Let us know what you think. Comment below, send us your thoughts via Twitter @PropZero or add your comment to our Facebook page.