Barstow-based automotive garage, Angel's Garage, and radio station the Duck Radio (KDUC) are raffling a 1968 Mustang signed by rock band ZZ Top.
Each raffle ticket costs $10, or you could buy six tickets for $50 or 12 tickets for $100.
A winner will be selected Saturday at the Night Cruiser's Car Show in Barstow. If the winner is not present at the event, they will be contacted by the Duck Radio to claim their prize.
All proceeds will go to Barstow's Victory Outreach Barstow Church and to Blue Cut fire victims.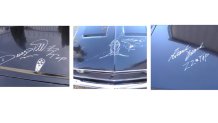 For more information visit Sparxo.com.