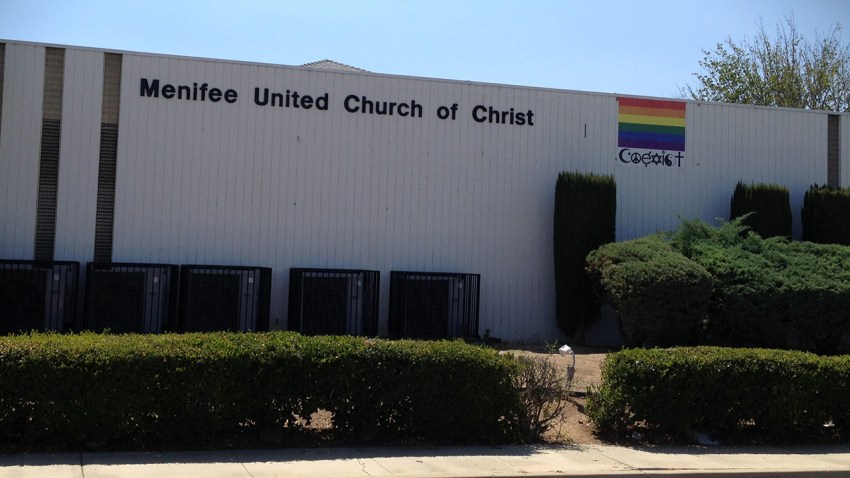 After two of its rainbow-colored flags were stolen earlier this year, a church in a Riverside County community on Friday mounted a new one on its outer wall in a display of solidarity with people of different faiths and orientations.
The flag is displayed to the side of the Menifee United Church of Christ. Below it sits a sign saying "Coexist," with a peace sign and symbols representing various religions embedded into its letters.
Congregants decided to hoist the flag June 12, the day a gunman killed 49 people at a gay nightclub in Orlando in the deadliest mass shooting in modern U.S. history before he was shot by police. The gunman had expressed anti-LGBT views and declared his allegiance to ISIS.
"I hope especially in this post-Orlando time that we show solidarity with the lesbian and gay community and with our Muslim brothers and sisters," Reverend Bill Freeman said.
The church scheduled the vote before the shooting occurred, but ended up making the decision the same day.
The church put up rainbow flags twice before, but both times the flags were stolen.
The reverend said he hopes these flags will remain attached. Unlike the other ones, which were made of cloth, this one is stuck to the wall, he said. Any potential thief would have to peel it off piece by piece, and "in the time it takes them to do that, maybe a cop will drive by and catch them," Freeman said.
The old flags elicited positive reactions from people driving by, the reverend said. Several lesbian members of the congregation joined because of them.
"I hope that this time there is respect for the LGBT community. Universal respect for the LGBT community and the Muslim community and all faith communities," Freeman said. "And that our flag will just be left alone."