Riders will finally be able to catch a train to the beaches of Santa Monica, as the second phase of the Metro Expo Line opens to the public Friday.
The much-anticipated 6.6-mile extension between Culver City and downtown Santa Monica will mark the first time rail service has carried passengers to the beach since the 1950s.
The light rail is being extended from its current terminus near Venice and Robertson boulevards in Culver City to a station at Colorado Boulevard and Fourth Street in downtown Santa Monica.
Service on the Expo Line light rail extension starts at noon Friday. To introduce passengers to the new line, Metro will offer free rides on the route on Friday and Saturday and will host weekend festivities.
Here's what you need to know:
The Route
There are seven new stations from Culver City to downtown Santa Monica:
Palms
Westwood/Rancho Park
Expo/Sepulveda
Expo/Bundy
26th St/Bergamot
17th/Santa Monica College
Downtown Santa Monica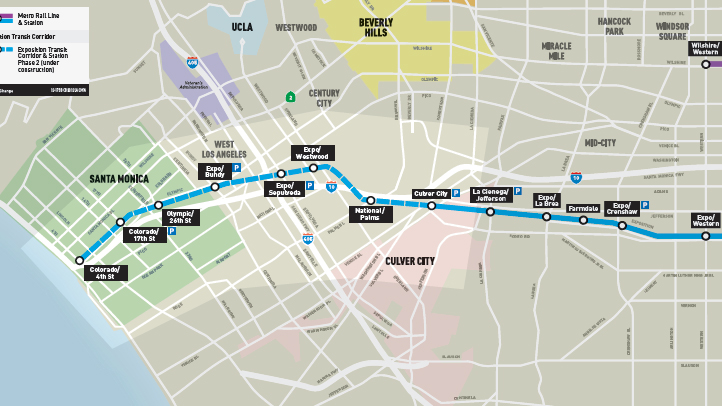 The Fare
Fist, you'll have to buy a TAP car, the reloadable fare cards which cost $1 and can be purchased at vending machines at all Metro Rail stations and online. Metro's regular fare is $1.75 and that includes two hours of free transfers for those using a TAP card. More on Metro fares here.
The Ride
The ride from Santa Monica to downtown Los Angeles is expected to take about 46 to 48 minutes. Trains will run every 12 minutes daily (except late at night) from about 4:30 a.m. to about 1:45 a.m. on weekdays and about 2:30 on weekends.
Parking
Three stations on the Expo Line Phase 2 extension will have parking lots costing $2 a day. Monthly parking passes for the lots are being sold online.
Transit riders with monthly parking permits will have access to select spaces on a first-come, first-served basis from 4 to 9 a.m. on weekdays. After 9 a.m., the permit spaces will be available to the general public. The lots will be available at:
17th Street/Santa Monica College station: 67 spaces, of which 13 are reserved for monthly permits
Expo/Bundy station: 217 spaces, with 131 reserved for monthly permits
Expo/Sepulveda station: 260 spaces, with 77 reserved for permits.
People without permits will pay the $2 daily parking rate, with parking attendants on hand to collect money and ensure motorists have access.
Cyclists can get more information on bike rules here.
Destinations
There are plenty of things to do along the route, from restaurants and farmers markets to parks and museums. Here's a list of 24 popular destinations.