A mountain lion that killed a 100-pound German Shepherd in the back yard of a Southern California home Wednesday morning before a standoff with the homeowner and police officers has likely fled back into a canyon, police said Thursday.

Officers fired several rounds at the mountain lion early Wednesday after responding to the report of the attack involving the dog in Fontana, about 50 miles east of downtown Los Angeles. The big cat snarled at officers and appeared ready to pounce before running off, police said.

"We believe the contact our officers had with the mountain lion... scared it back into the canyon," said Fontana Police Chief Rodney Jones. "We will continue to patrol the area routinely to ensure public safety."
California Fish and Wildlife officials described the mountain lion's behavior as "anything but normal." Reports of wildlife sightings in the neighborhood are not unusual, police said, but the attack surprised residents.

"I never thought this would happen," the dog's owner, Jonathan Slater, said. "It was a complete shock to me. My dad told this morning. He woke me up and said he didn't want me to go outside and see that my dog wasn't there."

The homeowner turned on an outside light after hearing the attack. The mountain lion appeared ready to attack the homeowner and responding officers, police said.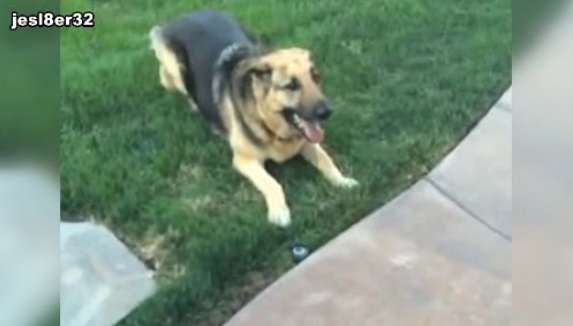 "Normally, they do not like to be around people, and they do not like the lights," said Jones. "This mountain lion stood its ground by growling at him and getting ready to jump on him."

The mountain lion retreated after officers fired round, but then returned at least three times before heading into the canyon. There was no evidence the cat was struck by gunfire.

An animal is considered a public safety threat if there is "a likelihood of human injury based on the totality of the circumstances," according to the California Department of Fish and Wildlife. The lion's behavior, proximity to schools and other factors are considered in making that determination.

Volunteers and Fontana police have been distributing information about the animal to residents.