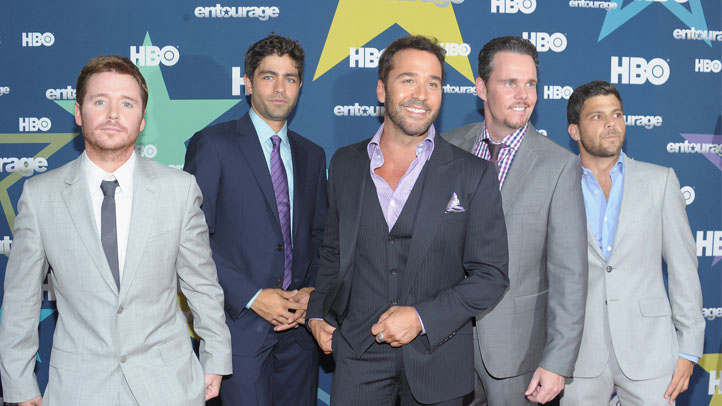 For seven seasons, fans have lived vicariously through the bed-hopping, globe-trotting Hollywood adventures of movie star Vincent Chase (Adrian Grenier) and his loyal gang of friends, family, and business associates (Kevin Connolly, Kevin Dillon, Jerry Ferrara, and Jeremy Piven).
But every party has to end.
The eighth and final season of "Entourage" kicks off this Sunday night on HBO, and in order to make sure you hit the ground running, we've got exactly what you need to know going in. Because no one wants to be the "Turtle" of their crew.
U.S. & World
News from around the country and around the globe
8. It's a Big Bow-Out, Just Not a Long One
The eighth season of "Entourage" is a "shortened" season, meaning the life and times of Vincent Chase will be wrapped up in a scant eight episodes. That leaves little time to wrap up all the loose ends, so definitely expect to either be disappointed that some things or left hanging, or accepting of some ambiguity.

7. Vince is Dry, Determined
Last season, "Entourage" took a dark turn as Vincent spiraled into drug abuse and reckless behavior - how many other shows' cliffhangers involve the main character getting busted for cocaine possession after being beaten up by Eminem and his posse? But at the start of this new season, Vince is fresh from rehab, clean and sober. He also reveals that he's been spending his dry days writing himself a new script project, which he is consumed with making a reality. But the real tension of the new season will be build around Chase's new found cleanliness, and how long it can possibly last in after-party after after-party.

6. They Gang Will Not Go Quietly
Once HBO started promoting the final season, they did so with the kind of nostalgic eye that suggested that everyone involved was happy to walk off into the sunset. But that's not the case. In a recent "Today" interview, the cast admitted that they were canceled, and that none of them were onboard with the decision. They also confirmed rumors that creator Doug Ellin is, in fact, actively working on a movie as a way to extend the story.

5. Mrs. Ari Has a Name
Eight episodes is a short window indeed, but one mystery will absolutely be resolved: The name of Ari Gold's (Piven) long-suffering wife, who has gone by nothing more than "Mrs. Ari" for seven seasons. Piven confirmed that the mystery will be solved in the first few episodes, adding that it was the idea of actress Perrey Reeves to go nameless for so long.

4. The Diceman Cometh
"Entourage" has established itself as the perfect show for celebrities to come on and poke fun at themselves, earn some cred, or revive a waning celebrity profile (or some combination of all three). Celebs as diverse as Val Kilmer, Lenny Kravitz, John Cleese, Mark Cuban, and porn star Sasha Grey have breezed through Chase's life, and season eight opens with Johnny Drama (Dillon) teaming up with infamous comedian Andrew "Dice" Clay on an animated series called "Johnny's Bananas." Their partnership does not go smoothly.

3. "Johnny's Bananas: The Series"?
Speaking of Drama's simian alter ego, Ellin has been quoted saying he would love to launch the animated in-joke as a spin-off series. Animators from "The Simpsons" and "Family Guy" were hired to design Drama's new venture, and Ellin would like nothing more than to make it a recurring gig. HBO, he claims, would be the first place he'd shop it, of course.

2. Ari Will Be Humbled
Agent Ari Gold is a pitbull who will do, say, and strong-arm anything he can do seal a deal, without caring about the damage his leaves in his wake. In a recent Vancouver Sun interview, Piven suggests that season eight will give fans a much different Ari:

"I think the wife may have had it. I think Ari Gold's methods may be completely unsound and he can be a blow-hard and reckless. And now the things that matter most to him are being taken away," says Piven. "As an actor to play a guy like that who's been brought to his knees -- you dream of that as an actor. I couldn't be happier. A lot of stuff that Ari has put out there to the universe is going to come back to haunt him."


1. This:
Everything else you need to know is in this official season eight trailer:

Now slick that hair back, get yourself a sharp suit, and get ready for the party. Season eight of "Entourage" kicks off Sunday night at 10:30 PM ET on HBO.